7 Best AI Writing Software of 2021 (Ranked)
Eager to create error-free content that converts leads into customers? Then check out my top two tools for writing assistance: Grammarly and Wordtune.
Brands in the 21st century depend on web content to drive business. It's estimated that around seven million blog posts are published per day. Amid such colossal volume, it's essential that your brand's posts stand out in terms of quality writing.
And AI writing software can help you achieve just that. These tools allow content creators to draft error-free content that resonates with the readers. Today, I'm here with a list of the top artificial intelligence (AI) writing software that uses machine learning and AI to enhance content quality.
Disclosure: I receive affiliate compensation for some of the links below at no cost to you if you decide to purchase a paid plan. However, these are the two best AI writing software tools that I recommend. You can read our full affiliate disclosure in our privacy policy.
What Is the Best AI Writing Software?
Here is my list of the best AI writing software this year.
Table of Contents
Best for Error-free Proofreading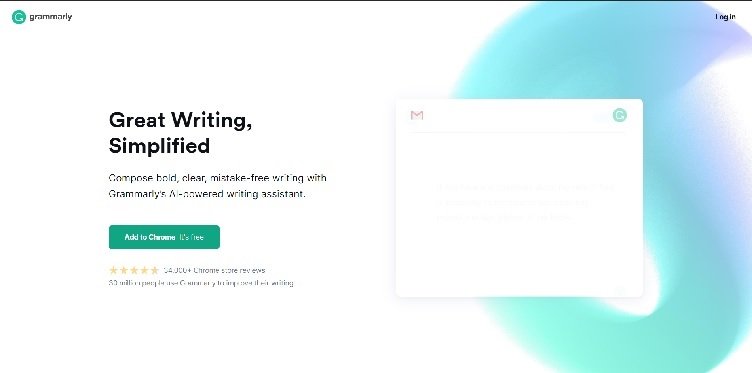 Grammarly started operations in 2009 and has positioned itself as the leading grammar and spell-checking tool on the market. It towers over others because you get to check spelling and grammar as well as spot contextual errors, improving your writing skills.
It lets you perform checks in multiple languages such as Australian, US, and UK English. The tool also has provisions for plagiarism checking and provides suggestions regarding how you can improve the quality of the text you've written.
One of the aspects of Grammarly that I find enticing is that it comes with an easy-to-use browser plugin. Once you've included that in your browser, you can run Grammarly checks while composing emails and writing in Google docs.
Such detailed checking makes the writing process fluid. With the Grammarly extension, you'll never be caught off-guard by errant spelling, punctuation, and other writing mistakes. Also, the interface and error prompts are very user-friendly, so that's another advantage.
Grammarly uses advanced AI and Natural Language Processing (NLP) techniques to analyze your text. The writing assistant tool highlights sentence structure and style problems and can even help you make your text more concise, clear, and understandable.
The following lists some of the features that Grammarly offers:
Spelling, grammar, and contextual error checking
Multi-language support
Plagiarism checker
Content quality score
Easy integration with most business apps
Secure browser add-on
Entirely AI-based checking
Available on both desktop and mobile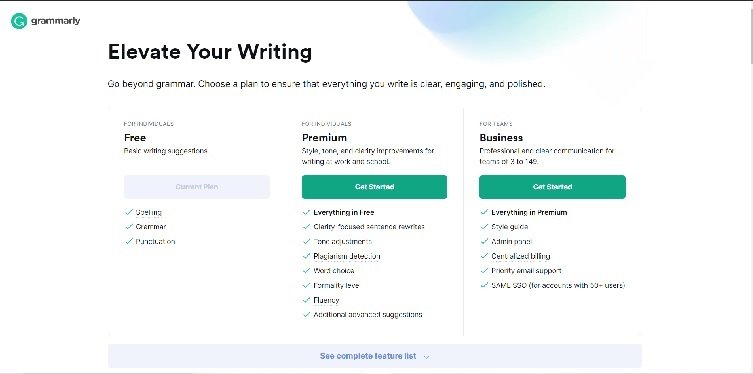 Grammarly has divided its plans across three tiers: Free, Premium, and Business. The Free and Premium plans are best suited for individual marketers and professionals. For larger teams, it's better if you opt for the Business plan. Here's a quick breakup of each.
1. Free Plan at $0/month
Basic grammar, spelling, and punctuation checking
Limited quality, clarity, and delivery tone detection
Single user only
2. Premium Plan starting at $11.66/month
Plagiarism detection
Advanced writing suggestions
Single user only
3. Business Plan starting at $12.50/user/month
Dedicated admin panel
Centralized billing and priority email support
For teams of three or more members
To get started with Grammarly, click the button below.
Wordtune doesn't position itself as a tool for grammar checking. Instead, it's one of the few AI software tools that try to understand the context and semantics of what you write. It's the brainchild of AI21 Labs and uses multiple language models to rephrase sentences.
Using Wordtune, you can work to make your content more compelling, engaging, and easily consumable. To help you achieve this, the service uses advanced, neural-net-based NLP technology combined with standard AI tools.
The tool paraphrases the content you've written and rewrites it more fluidly and understandably. It attempts to improve the readability of the text instead of regular grammar checking that focuses more on syntax than semantics.
Wordtune helps you write sentences that read great and at the same time preserve the original meaning. It provides you with several different options for every sentence that you need to rewrite.
Apart from the above, the following are some of the other features Wordtune offers:
Entirely cloud-based tool
Smart paste feature
Works with all editors and email clients
Semantic analysis-based rewrites
Complete control over sentence length and style
Thesaurus based real-time suggestions
Multi-language word finder
Easy integration with social media sites and business tools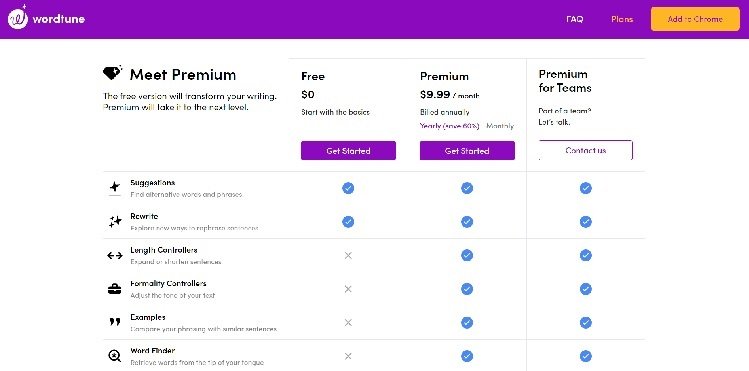 Like Grammarly, Wordtune also has a three-tiered pricing structure. The Free plan is available for everyone to use without payment or registration. For advanced functionality, you can switch over to the Premium paid plans, as explained below.
1. Free Plan at $0
Basic suggestions
Basic rewrites
Chrome add-on
2. Premium Plan at $9.99/month
Advanced rewrites and suggestions
Formality and length controllers
Word Finder
3. Premium Plan for Teams
Everything in Premium
Team billing
Custom pricing
If you deal with academic content that can't afford grammar mistakes, then ProWritingAid can make the task a lot easier for you. It offers advanced grammar and spell-checking, along with style suggestions. You can choose from over 1000 writing styles that are pre-built into it.
The software helps writers improve their content by providing detailed reports that can help enhance their writing style. It also provides you with unique writing suggestions, related articles, and even videos and quizzes to make the editing process more engaging.
ProWritingAid helps you search for and weed out unwanted elements in your text, such as redundant text, vagueness, and excessively long sentences. And like most AI-based editing algorithms, it learns and helps you learn as you go forward and use it more. Use it for research projects, professional articles, and more.
The one feature of ProWritingAid that I need to mention is its ubiquity. The app offers a Chrome extension, an MS Office add-on, and even works with Google Docs and Scrivener. No matter what editor you use, ProWritingAid can help you out.
Here's a list of the essential features that the tool offers:
Grammar and plagiarism checker
Tonal analysis of text
Detailed engagement metrics
Style and sentence formatting
Easy API integration
Completely cloud-based solution
20 detailed writing reports
Integration with popular apps such as Medium and Gmail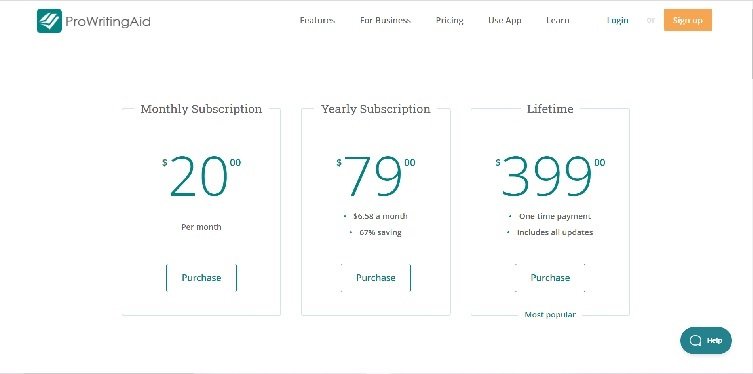 ProWritingAid's Chrome extension is available for free, and you can opt for any of the paid plans as per your needs. Plans are segmented, keeping user needs in mind.
Here's a quick break up of ProWritingAid pricing plans:
Monthly Plan at $20/month
Yearly Plan at $79/year
Lifetime Plan at $399 (one-time payment)
Individual Business Plan at $6/month
Business Teams Plan at $8/user/month (minimum two users, billed annually).
Enterprise Plan at custom rates
The service also provides discounts for students and bulk purchases.
Sapling is an AI writing assistant software that works with messaging platforms and CRMs. It works to help sales and support teams compose and send personalized responses to customers.
Using this tool, managers can also gain insights into managing conversations and training teams for better customer communication. Currently, the tool is used by large brands such as TaskUs and Lionbridge.
Sapling claims to capture language problems and errors much better than traditional spell-checking tools, as it uses a machine-learning algorithm. It also has an impressive autocomplete feature that can help speed up your process of drafting replies.
With Sapling, you no longer have to depend on chatbots that use shaky logic. The tool works to empower human agents by storing and retrieving the most common query responses. With a single click, you can reply to a customer and resolve their problems.
Apart from the above, Sapling also provides access to the following features:
Autocomplete Everywhere for faster drafting
Snippet library accessible via web tools
Message repository for inserting preformatted text
Ability to provide human-in-the-loop responses
Performance focused reporting
Omnichannel support across a wide range of apps
Enterprise-grade security
Fast installation
Sapling's free plan comes with basic suggestions and can be used on free domains. It also offers AES-256 and TLS encryption. To get the benefits of advanced features and suggestions, you'll need to opt for any of the paid plans.
Here's a quick comparison of the Sapling Pricing Structure:
Free Plan at $0/month
Pro Plan at $25/month
Enterprise Plan at custom rates
AI Writer is suitable for SEO writers and content ninjas who don't have the time to perform detailed research for article writing and creation for content marketing. This tool is essentially an AI content generator that produces an AI article for you based on the information you supply to it.
To use the article writing software, you have to enter a topic headline or keyword, and the automation system in the software will scrape related information from the web and create an article for you. The company website claims that using it can save up to 33% of writing time.
However, SEO bloggers and content marketers need to be aware that AI Writer is not a substitute for human writing. It only seeks to augment the writing process by collating information in a persuasive manner which content writers can then optimize as per their needs.
Apart from being an automated article writing software, AI Writer also provides a text rewriting function. Here, you can input an article that you've written, and the software will reword it. You can even reword articles that AI Writer itself has spun.
The following are some significant features that AI Writer offers:
Automatic content writing
Article rewriting/rewording
API for Auto-Blogging
Faster content creation
94.47% Copyscape pass rate
The official AI Writer website offers a free trial with limited capabilities and allows you to generate automated articles for seven days. If you're satisfied with the trial performance, you can opt for any of the paid plans.
Here's a list of the paid plans that AI Writer offers:
Basic Plan at $19/month
Standard Plan at $49/month
Custom Plan at Tailor-made rates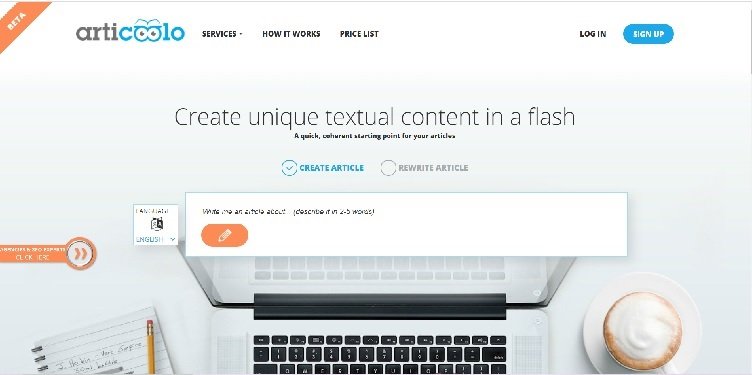 For bloggers working on WordPress, Articoolo can be the best solution for generating blog content rapidly. It's another article writing software and AI content generator that offers a WordPress plugin to make the process of article creation seamless and effortless.
Articoolo works similar to any other automated AI text generator tool: you need to type in the topic, and the service will create the blog article for you. Since it uses NLP-based contextual algorithms, you can be sure to get a good AI article to start with, especially helpful for when you're experiencing writer's block.
Using this tool, you don't have to spend time on hours of research and manually collating information. Just use Articoolo to speed up the process and fast-track your blog posts.
The primary service that Articoolo offers is that of an AI article writer, but you can also use it for rewriting existing articles. It even comes with an API and a WordPress plugin for smooth integration with other apps.
The following lists the essential features of Articoolo:
Fast article creation and rewriting
Topic idea and title generator
Article summarization
Quotes and image search
Writer's Helper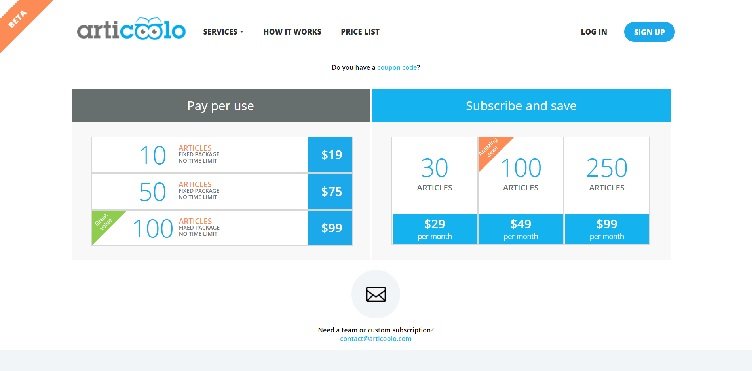 Articoolo's pricing plans are of two types: Pay-per-use plans and Monthly subscriptions. They also offer team and custom subscriptions for larger businesses that need bulk service.
Here's a list of the pricing plans:
$19 for 10 articles
$75 for 50 articles
$99 for 100 articles
$29/month for 30 articles
$49/month for 100 articles
$99/month for 250 articles
Text Blaze works to reduce the monotony of typing by taking care of repetitive tasks. Using this app, you can create quick and easy text snippets that you can insert anywhere like in social media posts or landing pages. It further speeds up the process by offering a slew of keyboard shortcuts.
Snippets in the app are usually plaintext, but you can also use contextual, dynamic snippets generated from real-time user input. It even gives you the provision to apply advanced business logic and communicate with other apps.
Using Text Blaze snippets, you can streamline inter- as well as intra-team collaboration and communication. For this reason, operations managers, sales representatives, and teachers prefer Text Blaze to save time and create quality text content.
The one advantage Text Blaze offers over many other AI writing tools is that it's available anywhere you can run Google Chrome, and this includes ChromeOS devices. The set-up process is straightforward, and anyone can manage snippets using it.
Here's a list of some of the features that Text Blaze offers:
Customizable templates
Quick keyboard shortcuts
Available on most popular web apps
Easy collaboration and sharing features
Dynamic formulas for business logic implementation
When it comes to pricing plans, Text Blaze offers a lot of choices. The Basic plan is free, and you can add the Chrome extension and start working on it immediately. Since this plan has limited sharing and creation capabilities, teams and professionals will need to upgrade.
The following is a list of the paid plans that Text Blaze offers:
Pro Plan for $2.99/month
Business Plan for $6.99/user/month
Enterprise Plan at custom rates
AI writing software refers to software tools that use artificial intelligence and machine learning techniques to speed up and support the process of creating written human quality content. These tools are playing a significant role in the content marketing industry.
Using AI writing software, you can create blog articles faster, write better emails, and polish your text to capture the readers' attention. AI-based writing tools can help you with everything from grammar and synonyms to context and sentence style/structure.
I'm sure you've seen from the description of pricing plans above that AI writing tools are mostly cloud-based and available as SaaS solutions. You can easily opt for an affordable subscription plan that suits your needs. Most services even come with free plans and trials.
A single typo can have massive implications on your brand image. As a result, any content that you create needs to be polished, precise, and error-free. AI writing software helps businesses and startups do precisely that and boost the marketing process.
If you're looking for a suitable AI writing software, then take a pick from the list below:
Whether you're looking to create great content or just churn out short articles, the above tools can help you get there. You can also use a combination of multiple tools for achieving better quality content.