BionicWP Review & Pricing (2021) WordPress Hosting Redefined
Currently, there are plenty of managed hosting solutions that you can buy. Users can easily choose from a variety of available hosting services. However, it becomes challenging for one person or a company to pick the right hosting service. Don't go for little profit, the user must look for a smart long-haul choice. If you are interested in choosing the best-managed hosting provider, then this review will help you make the right decision.
It's worth noting that a couple of problems may arise when it comes to a managed hosting solution. Right now, most of the essential hosting service providers are marketed smartly, which confuses the customer. In reality, the features in the managed hosting solutions rarely help businesses or individuals.
However, a product like BionicWP has all the necessary features required to keep your website up and running. It may seem like any other ordinary web hosting service provider. Still, after reading this review, you'll be happy to vouch for the versatile features that this beautiful managed hosting service provides to its users. BionicWP has set the bar so high that other hosting providers can meet the set standards.
BionicWP: An Introduction And How It'll Scale Your Business
The most notable feature of BionicWP is that it's a WordPress Managed Hosting Solution, which means it can scale your business quickly. Equipped with the latest tools and technology, the managed hosting will allow you to choose from the different options we will discuss later.
Google C2 High Compute Instance is the highlight of the BionicWP that stores data on the Cloud of Google. The feature accompanied by a hyper-optimized stack speeds up your website.
Do you know what the best thing about BionicWP is? Being a WordPress Managed Hosting solution gives you full control over everything on your website. Be it editing content, making some changes to grow your website visitors; everything can be done within minutes.
TL: DR
BionicWP is unique because…
It can boost your Google Pagespeed score.

It gives you a 30-day backup that prevents severe damage from hackers.

The performance report is sent every week to your inbox.

Scalability, CDN, and SSL make your website robust.

A staging area for you to experiment with the website before it goes live.

BionicWP is a White label hosting.

Regular plugin, core, and theme updates.

Unlimited editing for WordPress
If so many features make you wonder that the managed hosting is out of your budget, think again! BionicWP hosting offers the fascinating thing which gives you the ability to avail features for just $25 extra other than the hosting cost.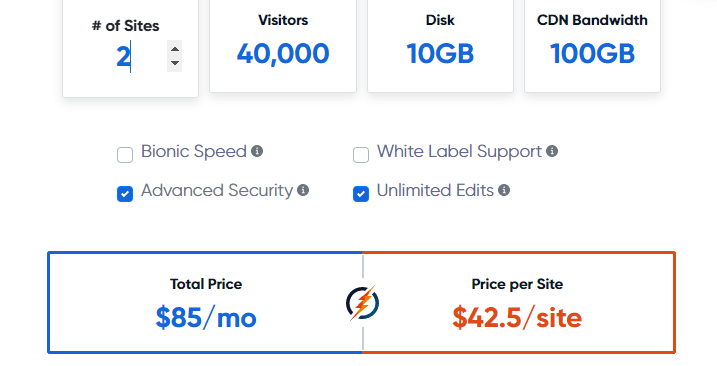 Let's Examine BionicWP WordPress Managed Platform
BionicWP is essential, which means you don't have to invest much time in learning the features.
To begin, start with the free trial and learn more about the fantastic features.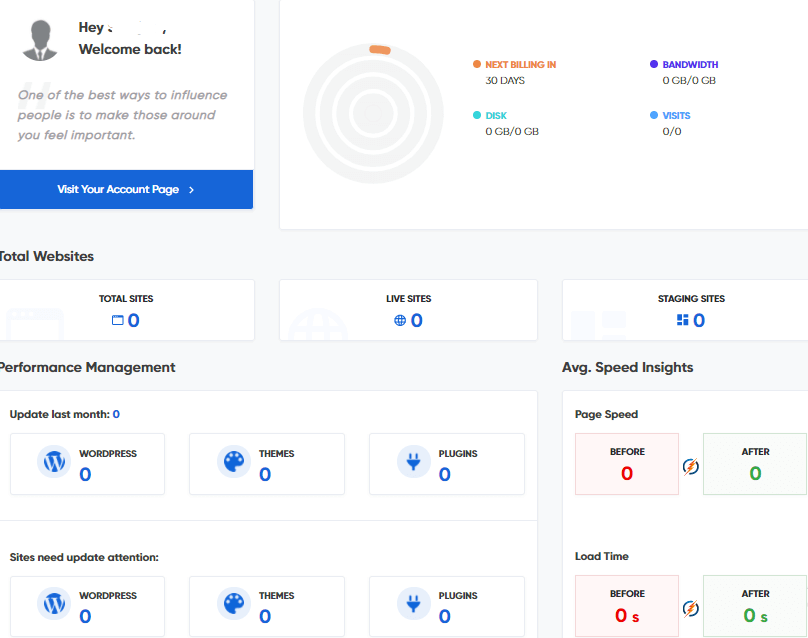 Everything is displayed on the dashboard. A new website will appear in the Live Sites tab. You will see the installed theme, plugins, and much more right from the dashboard.
Let's begin by creating a Live website.
Let's Edit Your Website on the Fastest WordPress Hosting Solution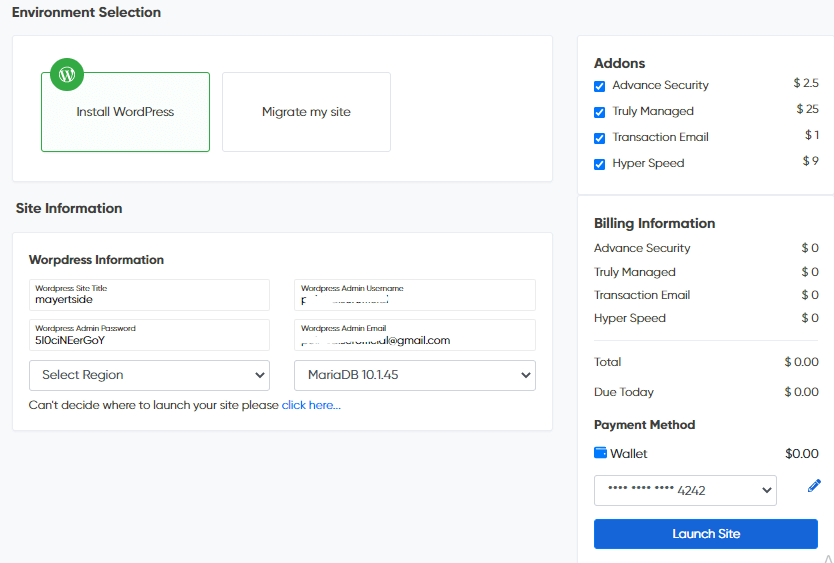 Select the 'New Site' tab; you'll be guided towards an installation page. Here, you can either migrate an old site or launch a new one.
Let's start with a simple example. We will launch a new site.
Trending
5 Best Video Editing Softwares for Bloggers and YouTubers (Freemium)

When you launch the website, you need to head towards the dashboard to see the live updates.

You'll see that if the website is good for use—a clean new installation of a WordPress website. Every website will have a hyper-performance stack, which means the site is already optimized and super-fast.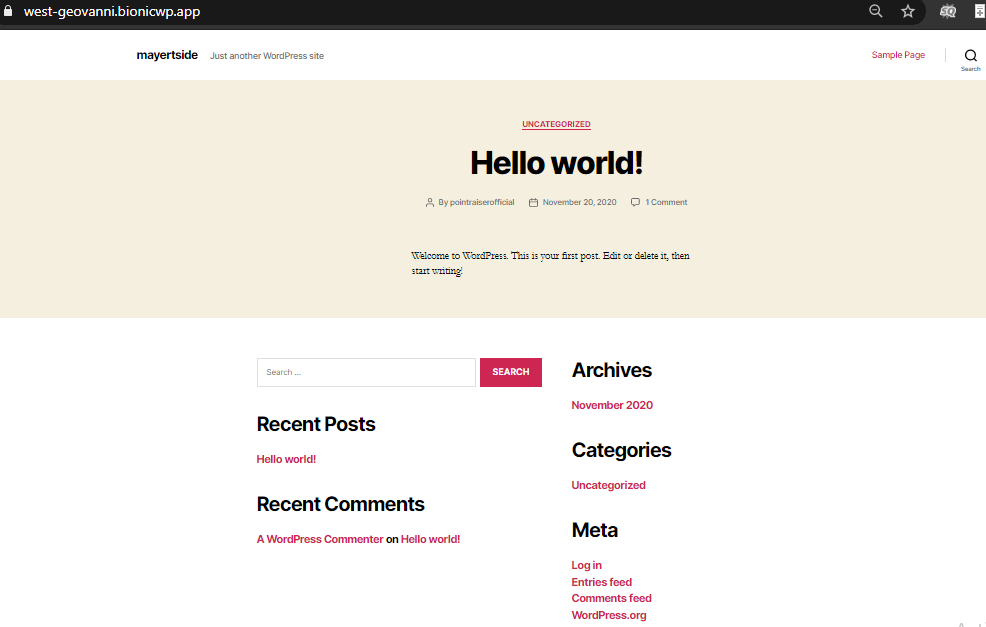 Now, the site is ready for launch, and as you can see that there is a default theme installed. You can check the theme & plugins by launching the BionicWP plugin dashboard.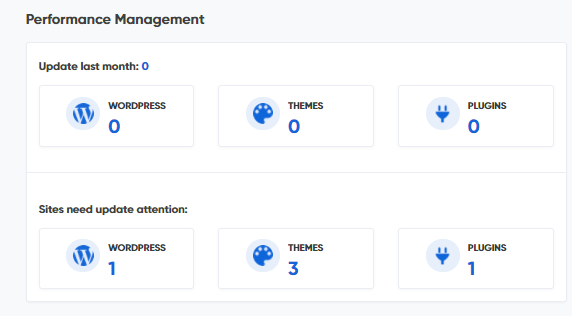 You can update everything by clicking on the 'Update All' button, and everything from the theme to core update to plugins will be automatically updated.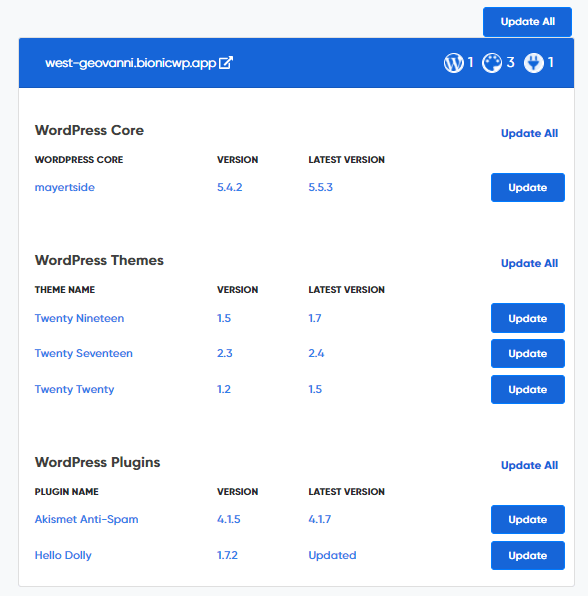 Access BionicWP dashboard from the WordPress dashboard.

You can see theme status, total plugins, and WordPress core update. With an application-level cache, you can quickly improve the performance of the website.

A Detailed Look At Benefits Of BionicWP Managed Hosting
Let's look at some of the most striking benefits of BionicWP.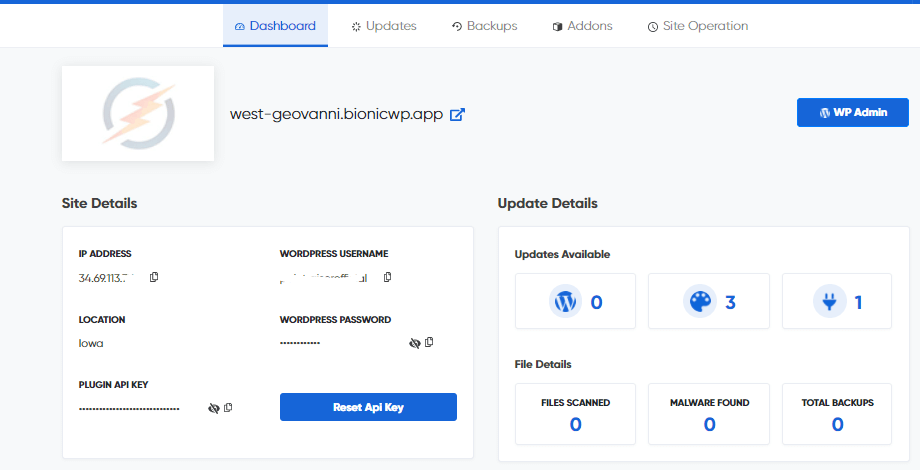 For novice users, the website's dashboard offers a single-window glance at your website.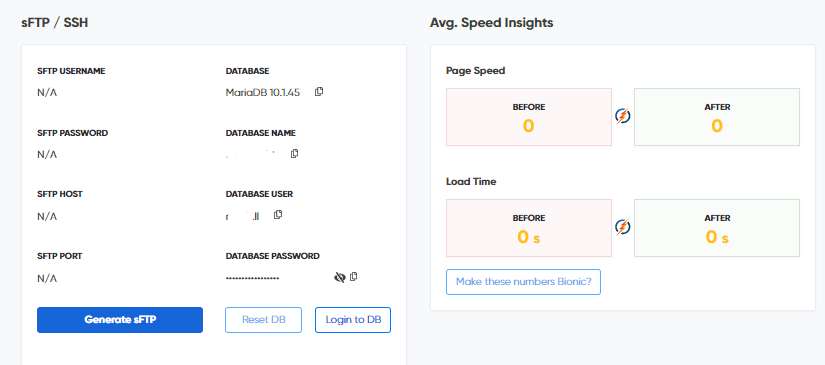 As you can see that SSH access is available. Just a single-click, I can access the BionicWP dashboard directly. And when I click the 'Make these numbers bionic,' I can boost my website's performance.
For a new website, you will not see any Google PageSpeed rank.
Hyper-Performance Activated
A hyper-performance feature will make your website fast. So, let's check the performance of your website.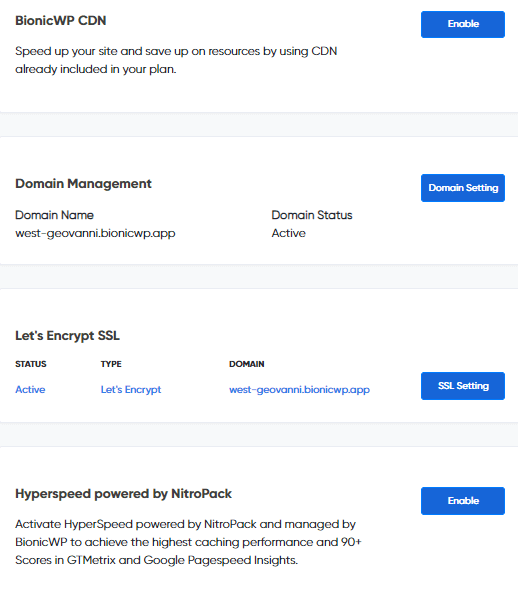 BionicWP has its CDN and hyperspeed pack by Nitropack. Both of these options are different but helps in improving the speed of your website.
The CDN will share your content with multiple servers all over the world. A hyperspeed pack by Nitropack creates an image of your site on their server, so it becomes easy for them to fetch the data.
BionicWP WordPress Managed Hosting Speed Test
Without even enabling Hyperspeed pack by Nitrospeed or CDN, the website is already scoring well at the Google PageSpeed test.

Don't be confused about BionicWP, look at the BionicWP hosting solution features before buying it. Or even better is to use the trial version for a month and see how it benefits your business.
BionicWP: A Review at Their Features
With some basic knowledge about BionicWP, now let's look at the excellent hosting solution that can take your worries away and help you succeed.
A Purely WordPress Managed Hosting
When you hear WordPress Managed Hosting Solution, what is the first thing that you think? A hosting solution that gives server-level support & management, right?
A BionicWP offers server-level, application-level support and management. This is an additional feature that most of the other managed to host providers don't even think of providing.
You'll get control over your website like never before. From server management to admin control, BionicWP will give you all.
Trending
Utilising Data Extraction and Cloud-Based Software to Track SERP Rankings
Unlimited Editing
It's convenient to hire an IT guy, but that will cost you money. Although every website owner dreams of saving the cash and investing it in marketing, with BionicWP, your dream can come true.
Go for unlimited edits on your website. From plugins to core updates and anything you need to customize in your theme can quickly be done without fear.
The significant part of the deal is that the BionicWP IT team will take care of the website, and you don't have to worry about it. If you face any problem, the team will be present 24/7 to help you out. Just generate a ticket or call upon the customer support person, and they'll be happy to assist you in making it easy for you.
White Label Hosting
Mostly, agencies have their web hosting solutions, which they offer to clients. Now, anyone can host a website on BionicWP and use branding to sell the best hosting solution to their clients.
The clients will have full control over the website. The agency can easily use its branding worldwide, and the BionicWP team will give the support.
A Dream Come True for Small Businesses
Unlike other WordPress Managed Hosting Solutions, BionicWP offers some competitive features to scale your business. When you take the hosting package, just an additional fee of $25 will give you tons of new features. You can delegate all the technical stuff to the BionicWP team and get back to growing your business.
For an agency owner who worries too much about their website's technical aspects, this is a dream come true. For small businesses, it was challenging to hire an IT expert to deal with their hosting problems. But the BionicWP support team will take all your worries away.
Performance
Want to boost your website performance? Here's what you need to know about how BionicWP will help you gain a competitive edge over your rivals.
Impressive Google PageSpeed Insights Score
Can you even imagine a hosting solution helping you to raise your rank in Google PageSpeed? Yes. Now, it is possible. BionicWP offers tons of options with which you will be able to improve your Google PageSpeed Score.
Conversion Rate Will Boost By 35%
Do you know that the conversion rate is directly proportional to traffic and the number of leads on your website? When the traffic increases, there is a good chance that leads on your website will also increase.
Moreover, when the traffic increases, it will give a boost to your website performance. BionicWP offers high conversion rates for your business. You'll be amazed by the features provided to you.
Premium Bandwidth With Google C2 High Compute Instances
If you want to host your website on the best hosting server, look no further than Google Cloud. With Google C2, all your data will be stored online that can easily be accessed. The fastest online service that gives you a reliable way to access your data.
Linux Containers
The most promising thing about BionicWP is that it offers server-level and application-level support; it also gives you Linux containers, which makes the server fast.
Quality CDN
The excellent news for BionicWP users is that it has its CDN service. With six containers, it helps users to improve the speed of their website with one-click.
Security
BionicWP takes security seriously. That's why when you take hosting, you'll get malware protection, regular backups of your website, and all the protection that you need from an experienced hacker.
Quick Malware Scan
You can quickly scan your website for malware with just one-click—no need to install an additional plugin to scan your website. The in-built malware scanner in BionicWP has the potential to point out any malicious activity on the website.
Website Application Firewall (WAF)
The WAF keeps a check on the traffic on your website and protects any malicious attack from happening. Your website will be protected from DDoS attacks, SQL injection attacks, and any attack aimed at harming your website.
Hack Proof
It's easy to hack a WordPress website. But BionicWP makes it impossible to breach the website. Mostly, hackers use social engineering tricks to get sensitive details. But with BionicWP, the system is hack-proof. It will be impossible for hackers to get into the website.
Site Management
Any hosting solution is useless if it doesn't offer core updates. Themes and plugin updates. That's where BionicWP takes the lead over other hosting servers.
Trending
GoDaddy SSL Coupon – Get Flat 92% OFF on GoDaddy SSL Certificate
Core, Theme, & Plugins Updates
For WordPress, it's essential to get the necessary updates. The theme, core update, and even any update required.
The BionicWP has all requirements. You don't have to worry about any updates because an 'Update All' button will update everything you need.
Regular Monitoring Of Speed
Customer satisfaction is essential for customers. That's why BionicWP ensures that all the customers remain happy. The way they do it is by providing frequent performance updates to website owners.
Environment for Staging
When you test the website before it goes live, it's a safer route. The BionicWP provides a staging environment where you can quickly test the website before it goes in front of the customers.
This is important because a simple test can help you grow sales, understand the customer behavior and iterate before you get the site out there.
White Label Support
The most fantastic feature of BionicWP hosting is that you can use all the features and resell the hosting service as your own. For instance, a website development company can brand their hosting service by using BionicWP.
The client will get the BionicWP but won't even know who is providing the service. All the branding will be of that development website. And most importantly, you'll be able to get all the technical support that you get from BionicWP without the mention of their name.
Performance Testing Of BionicWP
Let's use some of the famous tools available to test the website's security and performance.
Speed Testing on Pingdom
A popular speed testing tool that ranks your website based on the website's performance and security. I've checked the performance of a BionicWP Managed website, and here are the results: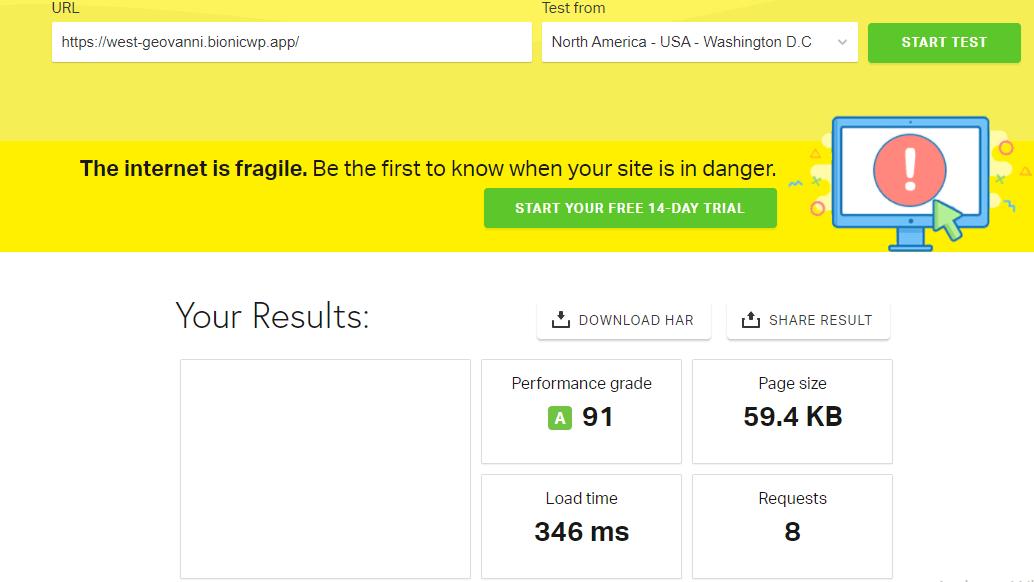 These results are without even enabling CDN or Nitropack. Now enable both the features and test; here are the results.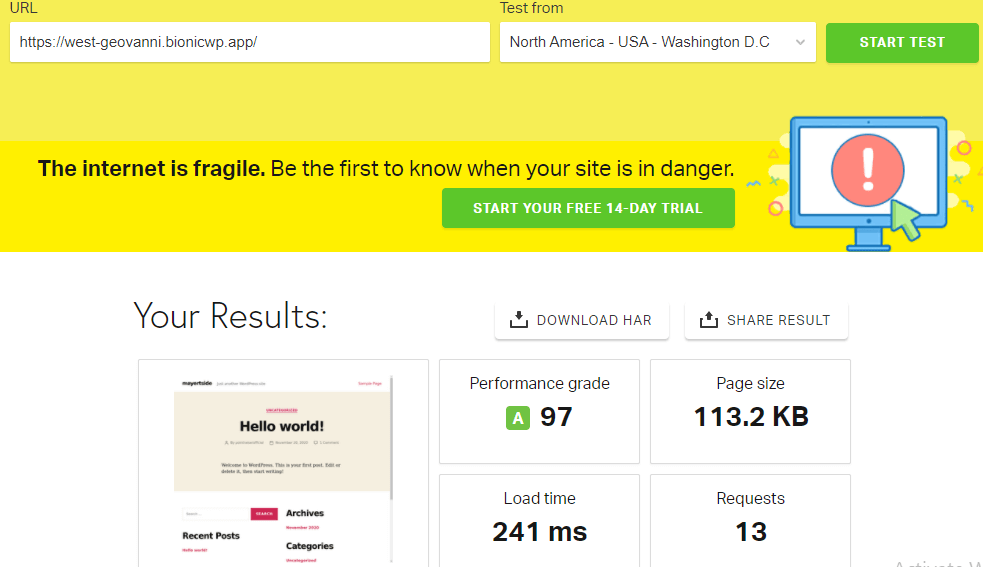 The load time has decreased significantly. The performance is improved, and the security is also up to the mark.
Using GTMetrix for Speed Testing
Another website analytics & performance testing tool. Here's how a website that BionicWP manages is showing results on the tool.

I've tested the results without enabling both the CDN and Nitropack service. Now, let's look at how the website performs after enabling both.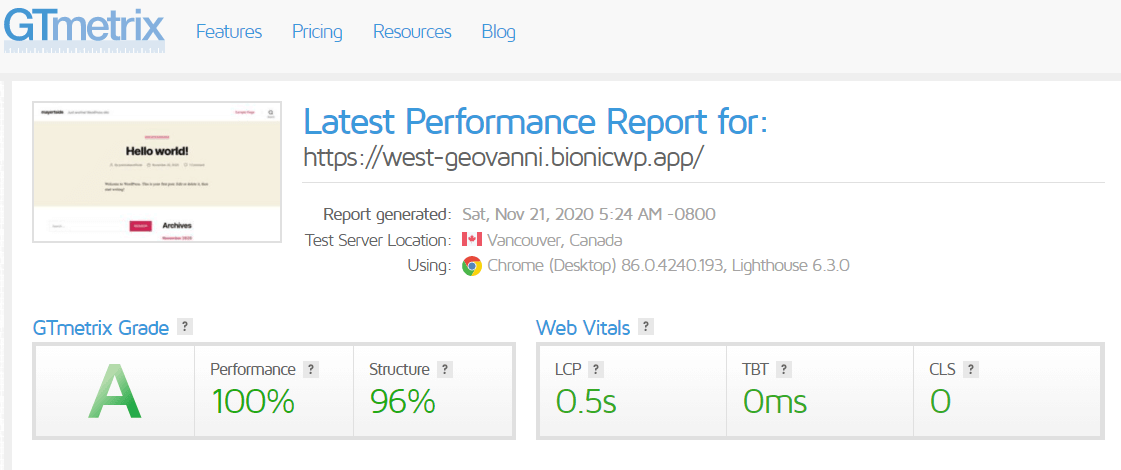 You can witness the phenomenal changes. Both did their magic and performance improvements.
Quttera Security Test
You can see that when I've tested the malware on Quettera, there were no malware issues on the website.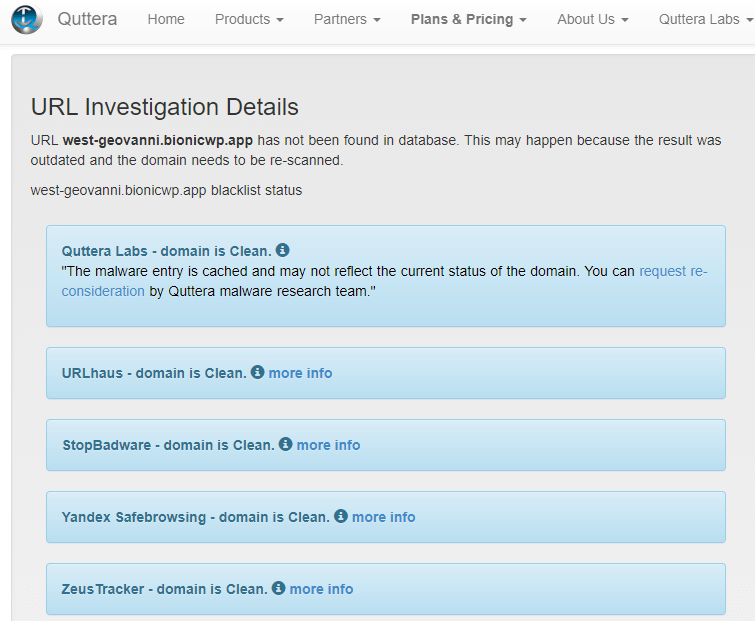 BionicWP Hosting Solution Pricing
As mentioned earlier, BionicWP sounds like an expensive hosting solution provider, but it is not. At just $27.5, you can add a website and host it on the best WordPress Managed Hosting Solution ever.
As you add more websites, the price decreases.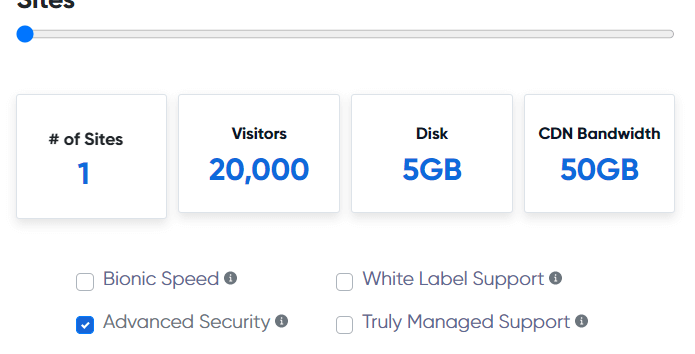 For instance, if you add five websites, it will cost you $22.5 for each website. And as you add more websites, the amount will decrease.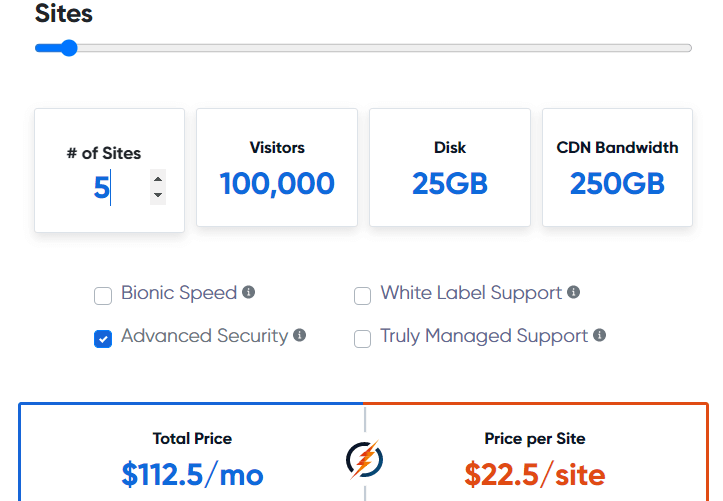 If you compare other web hosting services with BionicWP, you'll note the significant difference between others and BionicWP.
From the pricing structure to the customer support, everything BionicWP gives is way beyond other hosting service providers' reach.
Trending
How to Remove "Proudly Powered by WordPress" from Footer?
How To Earn Commission With BionicWP?
The good news for affiliate marketers is that BionicWP offers a super-easy affiliate program. With the BionicWP affiliate program, you'll get $75 plus 12.5% recurring commissions on each referral you bring for BionicWP.
Here are some fantastic things to know before you sign up for the referral program.
A 60-day cookie means when the user will stay for 60 days, you'll be rewarded.

There is no minimum payout for you. Even if you've earned $0.01, you can take it out.

The affiliate program is for everyone. It is not just limited to developers. Whether a blogger, a marketer, or even an influencer, you can sign up for it.
BioncWP Reviews: Look At Customers Feedback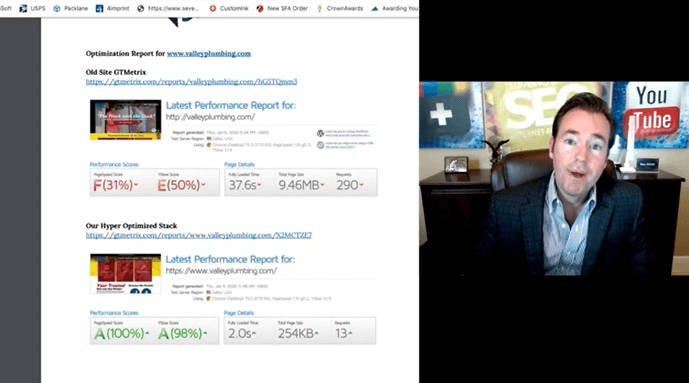 Of course, every website owner dreams of having the best hosting solution for them. Whether it is performance-wise or support, a website owner just wants to scale their business, and for that, whatever hosting is good, they'll go for it.
The customer reviews of BionicWP speak a lot about the service they are providing. The customers love it, and the best part is that before you even try using BionicWP, you can try it for about a month. In a month you can use all the features that'll tell you about the performance.
Mostly, website developers go for BionicWP because it gives results with Google PageSpeed. With simple tweaks, you can improve the performance of your website. And you as we've seen that the tools have shown improvement of the website.
The core goal of BionicWP is to keep their customers. And this is what they are doing.
Let's look at some of the reviews given by satisfied customers.

Final Words!
BionicWP is no doubt the best-managed hosting solution that is available in the market. BionicWP is doing an excellent job and making the customers rave for reviews. The other hosting solution providers are making an effort to compete with BionicWP, but they fail miserably.
The most outstanding features for BionicWP reside in unlimited editing and customer support. At a low-price, you'll be able to get all the features for a premium hosting managed service.
I've tried various other hosting solutions, but I was not satisfied with any other hosting service. Plus, I can brand the service with my name on it. It gives me the flexibility to market the hosting service with my name.
BionicWP has provided all the premium level features at a low price. And most importantly, you can earn with the fantastic affiliate program. The profit is guaranteed. Just take the trial service before you buy the actual service.
If you're looking for a professional WordPress Managed Hosting service, this is the service that you can go with even with your eyes closed. Just start with the trial version, and you'll be able to judge the service.