How to Check Website Status to Know if its Up and Running
Are you looking for a way to check website status in order to always ensure it's available for everyone?
No matter what niche you're in, you need to monitor your websites.
Website monitoring is the process of tracking the uptime and downtime of a website. It is often used to ensure that a website is available to users.
In this post, you'll learn how to check your website status easily. Let's get started without much ado.
Check Website Status EASILY? How to Check If a Website Is Up and Running in 2022?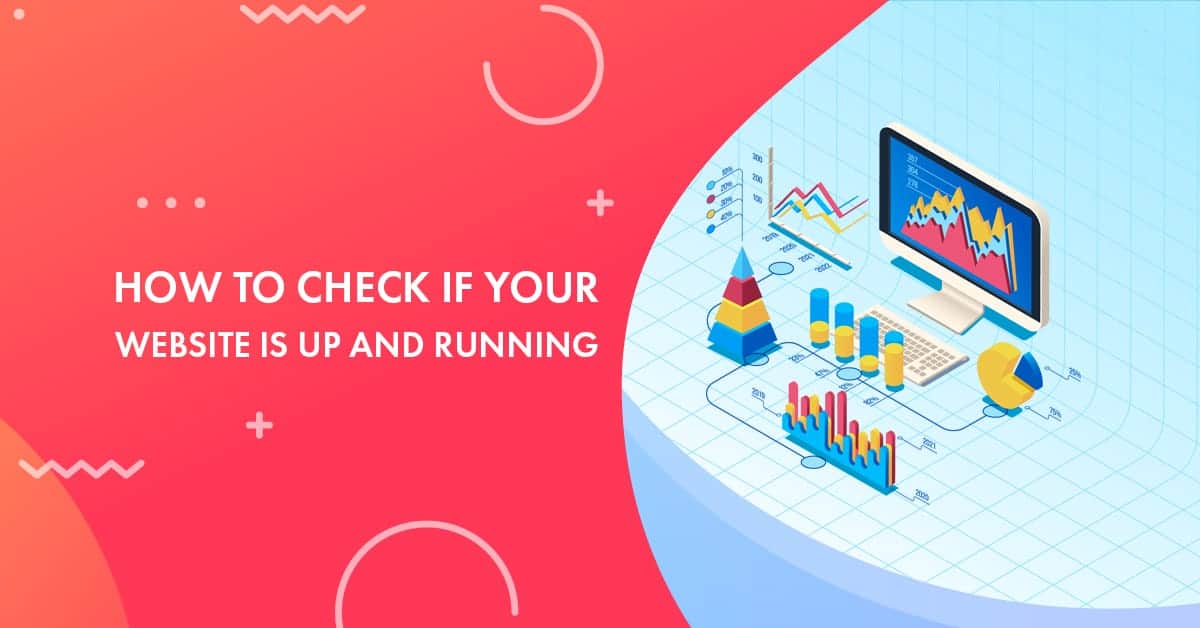 Test your Internet Connection
The first step is to test your internet connection to ensure that it is working. If your internet connection is down, you won't have access to your website.
Well, you can check the internet connection by visiting another website you haven't visited. Perhaps you can try Google to check; if the page is the same, then it means your internet connection needs fixing.
If the internet connection is okay, you may consider refreshing your browser or using another browser. In some situations, the primary culprit is the browser. If after refreshing it still doesn't work, then you have to try another browser.
However, if the website opens in the other browser, then you have to clear your browser's cache in the first browser used. If this does not solve the problem, then you need to reset the browser to its default setting.
Ping Services To Check Website Status
Is your website up or down? Well, one way of verifying this is to ping other websites. There are many popular websites to enable you to check this including:
1. Down for everyone Or Just Me

If you need a straightforward tool to check if a website is up or down, this will be a perfect choice.
Just enter your domain name to the provided search bar, which you'll see in between the words "is" and "down" and press the Enter key on your keyboard.
The next page will reveal to you if your site is up or down without any extra details to support the result.
After testing different alternatives to this tool, I discovered that it provides one of the most accurate results. So you might want to try this one out first before checking the other tools I'll mention here.
>> Check out down for everyone or just me now:
2. Are My Sites Up?
"Are My Sites Up" is the best choice if you have more than one website but can't afford to pay for a premium Pingdom account, this is an amazing website monitoring tool. With their free account, you can easily monitor and track up to 5 websites with 25 daily checks.
That's not all, they equally have a premium service that lets you monitor and check more websites. You can get alerts through text message, RSS, e-mail, Twitter, or through a slick iPhone application.
3. Is It Down Right Now?
This is what you'll see once you land on the "is it down right now" homepage. You'll find a search bar at the top, which is where you'll enter the URL of your website, as well as the list of sites that the tool has checked so far.
Now, you'll have to type in the URL of the site you want to check its availability and click the "check" button:
Once you check a specific website, in this example, I just went with HostingMonks.Com, you will get a personalized status check, as well as a history of IIDRN's automatic checkups. With this information, you will be able to know whether it's the Internet, or if it's you.
4. DotCom-Monitor Instant Test
This is a bit more advanced website monitoring tool compared to the other ones listed here because it has the ability to check different protocols including HTTP, HTTPS, POP, SMTP, UDP, and FTP.
For a normal website, it's recommended to use the HTTP or HTTPS check where you'll have to select the request type either POST or GET, login credentials along with additional parameters for POST, GET, and headers.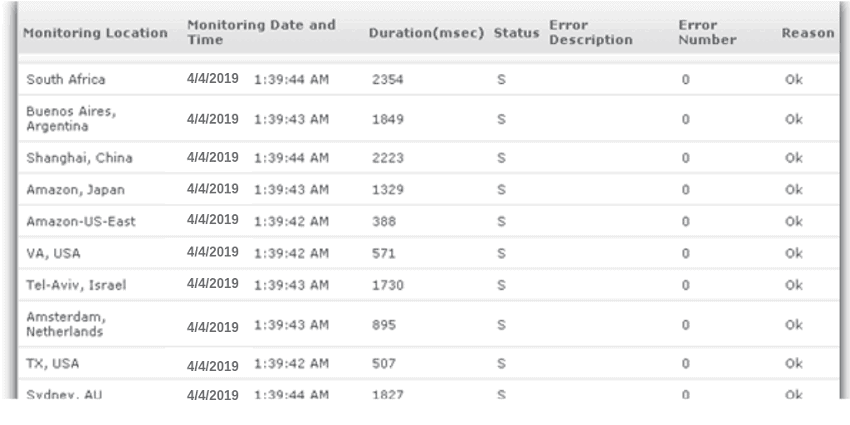 The website will be checked automatically with about 19 checkpoints from eleven countries. To figure out if a site is up or down using "DotCom-Monitor Instant Test," check the error number, description, as well as reason column.
>>Check out Dotcom-Monitor Instant Now 
5. Binary Canary
This is one of the best tools to always check website status. Binary Canary comes with a free monitoring account that you can use to monitor up to 5 websites at a 15-minute frequency. Whenever the website goes down, you'll be notified through SMS or e-mail.
6. Checking with host-tracker.com
Another way to check website status online is by using this advanced online tool, which provides adequate information about the status of your website. Unlike the ping method, this tool allows you to get an automatic notification whenever your website goes down.
To check if your website is up and running, open host-tracker.com in your browser and insert the URL you want to check within the empty field, and click check.
Furthermore, ensure you select the "HTTP" before going further. You will get a detailed result of your website but our focus in on the status of your website. If your website displays information similar to the one below, then the question "Is my website down?" is not valid.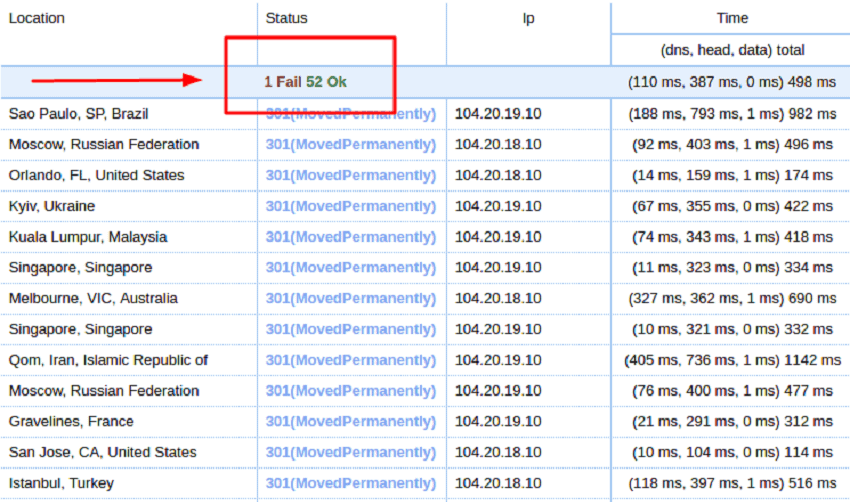 Although it may have failed many times, however, most of these have to do with interruption with the internet connection.
7. Check website through proxy Incloak.com
Do you want to check if your website is up or down? This method is different from the aforementioned ones because it allows you to see the website you are checking. Perhaps you are thinking about what a proxy is.
If you use a proxy server to visit a particular website, you will not reach the website from your computer directly. Alternatively, it will first reach a server located in a different part of the world before sending a request to the website in question.
Then the result will be displayed on your computer. What you are trying to verify is if the website is available in another country or location.
To use this option, you have to visit incloak.com and put the website in question in the empty field as shown below:
After putting the address of the website, click "Hide Me." A new window will open with the website you requested to check to show it is loading.
If everything loads perfectly, it means your website is up and running. However, if it fails after multiple tries, it means your website is down and requires quick resolution.
Other Tools to Monitor your Website Status
If you want to monitor the availability of your website always, there are many online services available to do that. Your website may stop running for various reasons including a hack or database errors.
Besides this, your hosting provider may contribute to why your website is down or up, which is why you must find a reliable provider to host your website.
The best way to monitor your website status is to get tools that will alert or notify you of the current state of your website.
Fortunately, you don't have to pay any dime because they come free and are available for everyone. Your website does not need to get down for a second with these tools as far as you get the notifications.
8. Uptrends
With Uptrends, you can monitor your website from multiple locations and get notified when it is broken through email.
The platform has an amazing dashboard that provides essential metrics for our website. It has error breakdown by types, availability chart, and total time is taken to load the graph.
Interestingly, the dashboard is customizable and allows you to export your website data in Excel or PDF. No financial attachment is involved in using this service for your website as it comes FREE.
9. Uptime Robot
Uptime is a performance monitoring and enterprise-ready site availability tool that has amazing features. With Uptime, you get a comprehensive response time reporting from over 30 locations.
Additionally, it performs significant security checks with notifications sent immediately. You can receive these notifications through Twitter, Pushover, Webhooks, SMS, Email, and much more. Furthermore, Uptime can monitor your POP, Ping, IMAP, DNS, and SSH.
10. Freshping
With Freshping, you can monitor 50 websites from 10 different locations within a minute. Does that sound amazing? Of course, it is your complete monitoring solution with important features such as multiple user login, multi-channel notification, integration with other services like Twilio, Slack, Zapier, etc.
Freshping allows you to get the status page to announce the real-time incident status of your website to your customers. However, when using the free plan, you get only six months of monitoring data for your website after which you have to start paying to monitor your website.
11. Google PageSpeed Insights
We have saved the best for the last because this free online tool from Google helps you to analyze your website, check the status, and offer suggestions to speed up your website.
Google PageSpeed Insights is the power of 3-in-1. However, our focus is on checking the status of your website.
To use PageSpeed to check the state of your website is easy. Enter the domain name in the empty field of the Google PageSpeed Insight and click Analyze.
If your website is not up and running, it will report, "The website specified cannot be reached." However, if it is accessible, it will see a detailed score by PageSpeed on the overall state of your website.
>>Check out Google Page Speed Insight Now:
What Others are Reading:
FAQs
How do I check if a website is up and running?
If your Internet connection is working fine then to check if a website is up and running, you can take advantage of Ping Services and other online services.
What are the ping services to check website status?
Down for Everyone Or Just Me, Are My Sites Up, Is It Down Right Now, DotCom-Monitor Instant Test, host-tracker.com, proxy Incloak.com, etc. are some of the ping services you can use to check website status.
How do I check the speed of my website?
What are the best free tools to scan WordPress malicious code malware?
Is Sucuri safe?
Yes, Securi is the most comprehensive security solution that is included with Security Activity Auditing, File Integrity Monitoring, Remote Malware Scanning, Blacklist Monitoring, Effective Security Hardening, Post-Hack Security Actions, Security Notifications, and 24/7 customer support.
How to Check Website Status | Conclusion
Make sure to always keep an eye on your website's availability if you don't want to lose your traffic or sales.
The methods mentioned in this post can help you easily check if the website is down just for you or everyone around the globe.
Are you already using website monitoring tools? Did we miss any of your favorite methods to check website status? Share your thoughts in the comments.