How to Create an Event Blog in 2020? 💸 A Beginner's Guide to Event Blogging
Not sure how to create a blog in a specific niche and earn huge money easily? Nowadays, event blogging has become one of the most successful and easy ways to make money online within a few days or even a few months of hard work.
If you're active on Facebook groups, you've seen many people sharing the case study of their event blogs and how they make thousands of dollars from them. Even I create niche blogs for some specific events and generate a good profit from them.
So the first question which came up in our mind is, "how can we create a blog on a specific niche? and how to find event blogging niches that actually generate good profit?"
Here is the answer, creating an event blogging is as simple as creating a blog for normal websites – but here we prefer a hosting plan that can easily handle thousands of real-time and a well-optimized WordPress blog.
Although you can create an event blog without using the WordPress framework – but if you're not well aware of coding, I strongly recommend you to stay with WordPress.
And a few more processes which are different from a regular blog. But wait… what are these processes?
Let's read this post till the end and find out all the answers.
So the question is…
Why Start Event Blogging?
The first question we came up with here is why to start an event blog?
Any guesses? If you're reading this post, it means you already know a few things about event blogging and why it's the best way to earn huge money in a short period.
But let me tell you again,
Event-based niche blogs are a type of blog that is mostly focused on an upcoming event, festival, and a special day. And this event blog guide is all about taking this opportunity and creating a high-quality blog for specific events or festivals in a short span of time. And unlike other blogs, it is not long term, and you just have to work only for 30 to 40 days.
It is one of the best ways to earn money online in a short period of time and trust me, if you choose the perfect event and rank your website on Google and another search engine, then the chances are you can make thousands of dollars.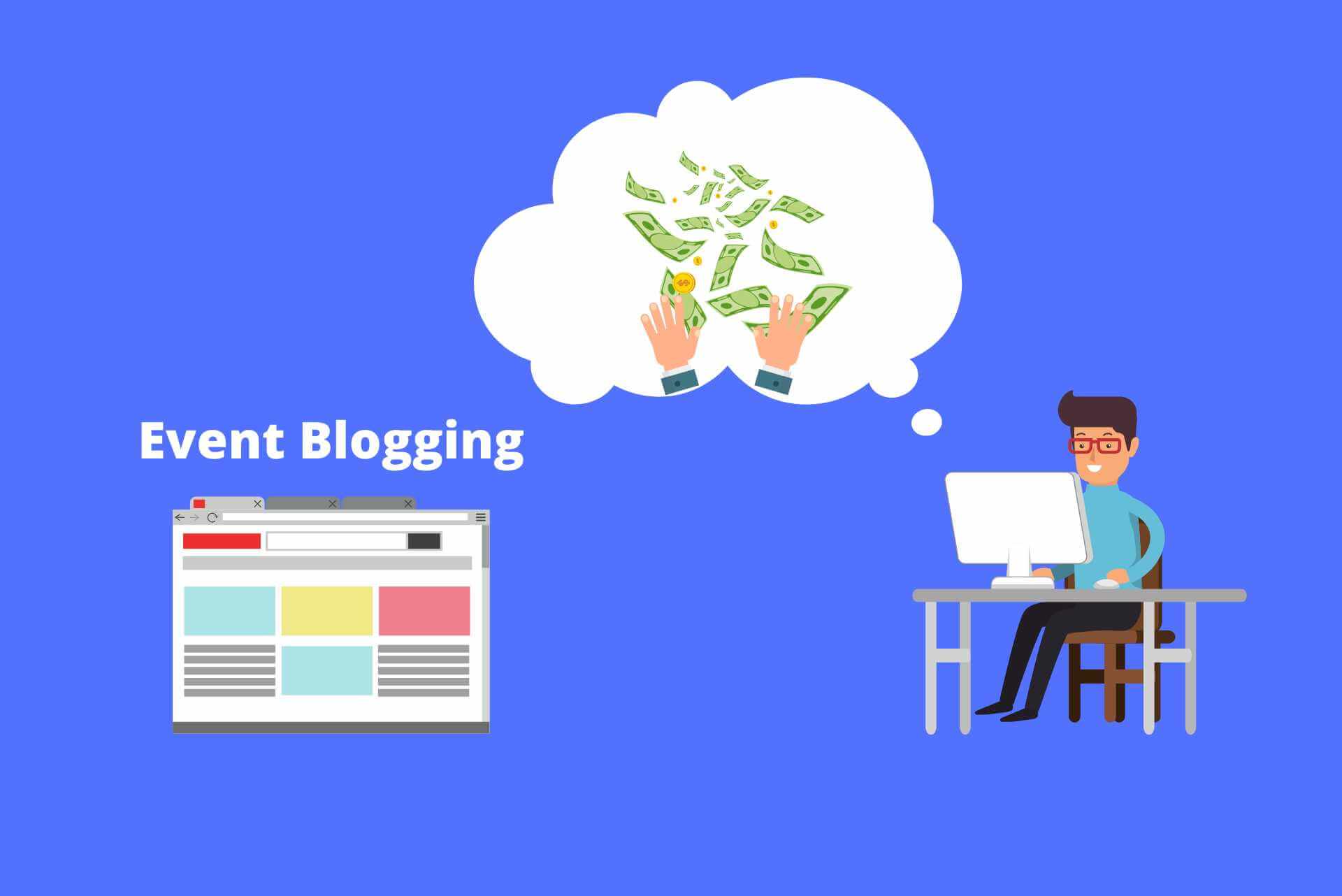 And there is nobody who doesn't want to make thousands of dollars in just a short span of time. Even I make thousands of dollars only from event blogging.
At first, I don't believe that I can actually make this much of amount just by blogging on a specific event of one or two days only. Because as you know, Google has restricted AdSense policies, and even they always revamp their algorithm, and it's not easy to get Adsense approval on your domain name – but if you manage to do so, you're in luck.
Now you understand why to start an event blog in a specific niche. We will further discuss how to find a niche for event blogging and then creating a high-quality site that actually gets ranked.
So the next question is…
How to Start Event Blogging in 2020
Starting an event blogging is easy, but sometimes it is highly competitive because you're not only the one who works on a specific event niche – but the problem is most of the people write spammy content and build backlinks by focusing on backlink quantity.
And what you should have to do is create quality content by following On-Page SEO factors and then move towards building quality backlinks rather than focusing on quantity in starting.
(Keep reading this article till the end, I'll also share how you can quickly build backlinks for your event blog and what types of website you should focus on).
In this whole process, I'm going to share every bit of the steps I know to create a successful event blogging site. And this entire process will blow up your mind, and if you focused well on every point, then you're ready to start your first event blog and start making money.
And in this whole process, I'll cover;
How to find a Niche for Event Blogging?

Domain & Hosting for Event Blogging.

How to Set Up Your Event Blog.

Blogging Resources & Proper On-Page SEO.

Off-Page SEO.

Monetization Methods.
The first guide in this chapter is finding a niche for event blogging.
So…
How to find a Niche for Event Blogging?
Niches for event blogging? So how can I find a niche for my event blog?
Finding an event for your event blog isn't so hard. It's an easy process, and in a country like India, there are lots of festivals, events, sports events, special days to celebrate.
And you can even blog on any of these events to earn thousands of bucks (Yes, I know, Indian niches are not so attractive when it comes to making money by event blogging, but still you can make good money from them).
But how to find event blogging niches? And how will I know I'm blogging on the right niche?
As I already mentioned above, finding a niche for event blogging is easy. You just have to focus on upcoming holidays, events, festivals, special days, etc.
You can also use online services like TimeAndDate.com to find all kinds of events specific to your country. This is the website; I used a lot to find upcoming niche ideas for my event blogging.
Once you find the specific niche for event blogging, I recommend you to check Google Trends and Ahrefs Keyword Explorer for more information about that particular niche.
For example;
I've chosen a niche related to an Indian festival "Diwali", and when I searched "Diwali pics" on Google trends, I got the below result.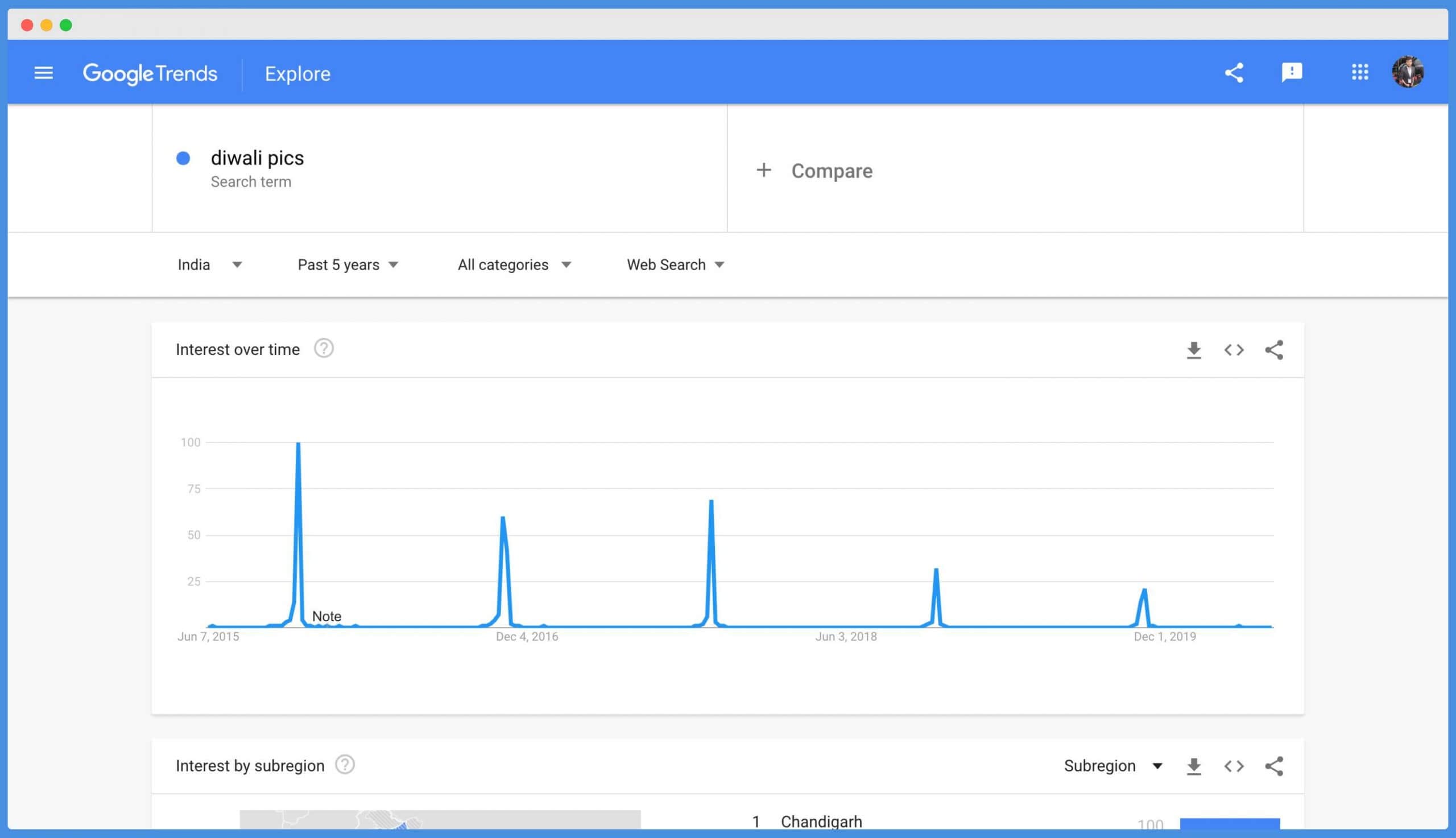 and, when I checked the same keyword using Ahrefs, I got these results;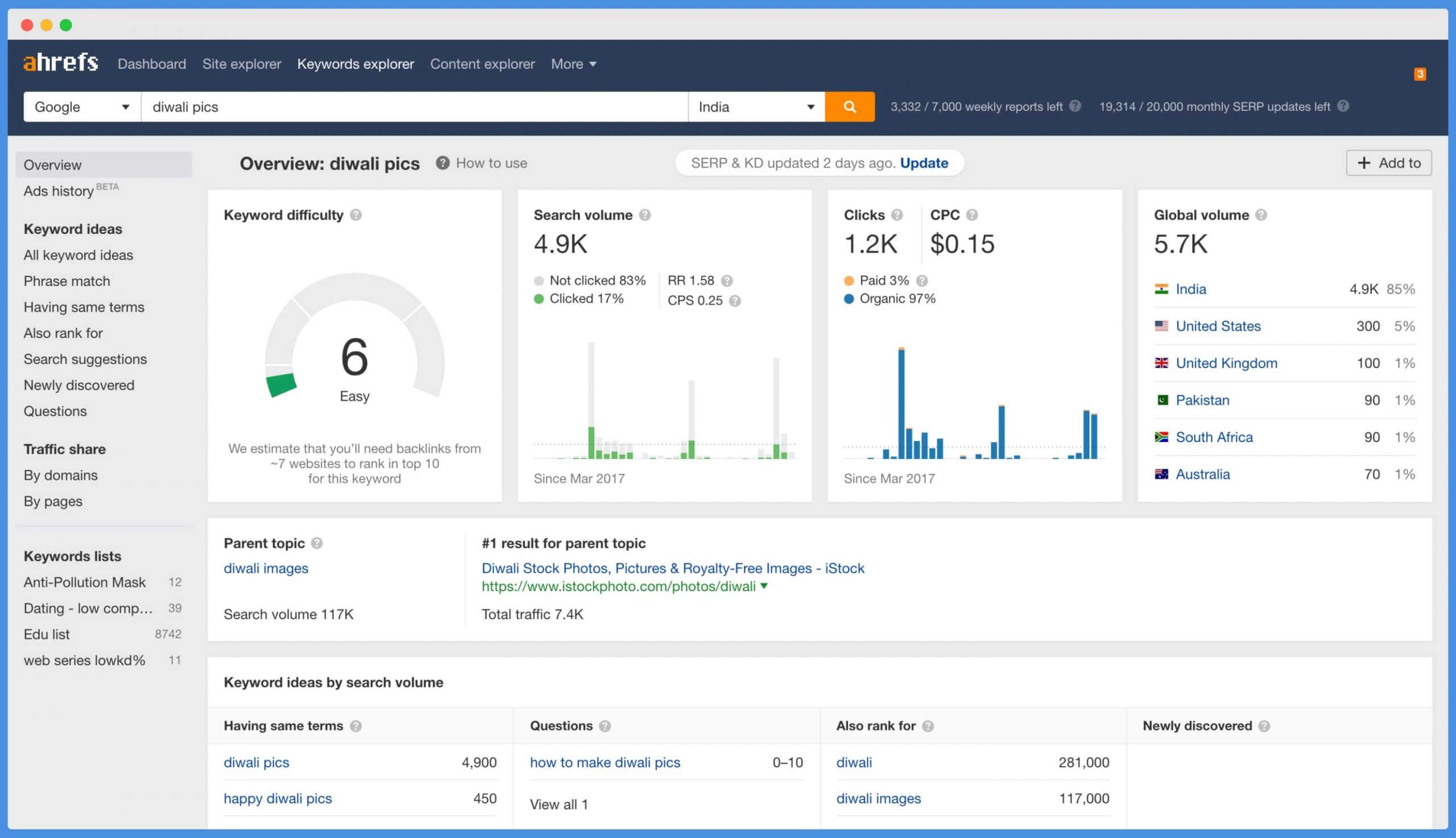 When we searched the keyword on both tools, we get a similar hike on a specific month. In the Ahrefs screenshot above, you see a hike in the month of October 2017, and then the searches for this keyword constantly drooped to null.
Similarly, in the first screenshot, the trend of this keyword constantly decreases after the month of this festival, which indicates that this keyword receives traffic only on a specific day or in a particular month.
And in this way, we can search and check the keyword trend before going towards a specific event blogging niche. It helps a lot in choosing the right keyword.
Here I'm also sharing a few niches, which are profitable and help you to make thousands of dollars easily;
Exam Results (Like CBSE Result)

New Year

Black Friday

Olympics

IPL

Elections

Mother's & Father's Day

Valentine's Day

Diwali

Holi

Eid

Upcoming Movies
and a lot more.
These event blogging niches can be divided into various groups, including;
Holidays: Christmas, New Year, Thanks Giving, Valentine's Day, Diwali, Halloween, Father's Day, etc.

Sports: Super Bowl, Cricket, NASCAR, Soccer World Cup, WWE, etc.

Live Events: Golden Globe Awards, Oscars, Music Concerts, etc.

Special Occasion and Movie Release: Black Friday Sales, Movie Releases, etc.
You can also visit Google Trends to observe the latest trends or events to find what to target.
Domain & Hosting for Event Blogging.
And the next question is choosing a domain name and hosting for your event blogging niche.
So how can you choose a specific domain name for your event blogging site? Does selecting an EMD (Exact Match Domain Name) helps in ranking your website in Google?
If you don't know, Google still ranks EMD domain name and in most of the cases, even above the high-authority domain name. So, for creating a niche-specific event blog, I strongly recommend you to choose an EMD domain name.
You can get cheap .COM domain name for just $0.99 from GoDaddy. This is the lowest price for a domain name you can ever get for .COM domain extension.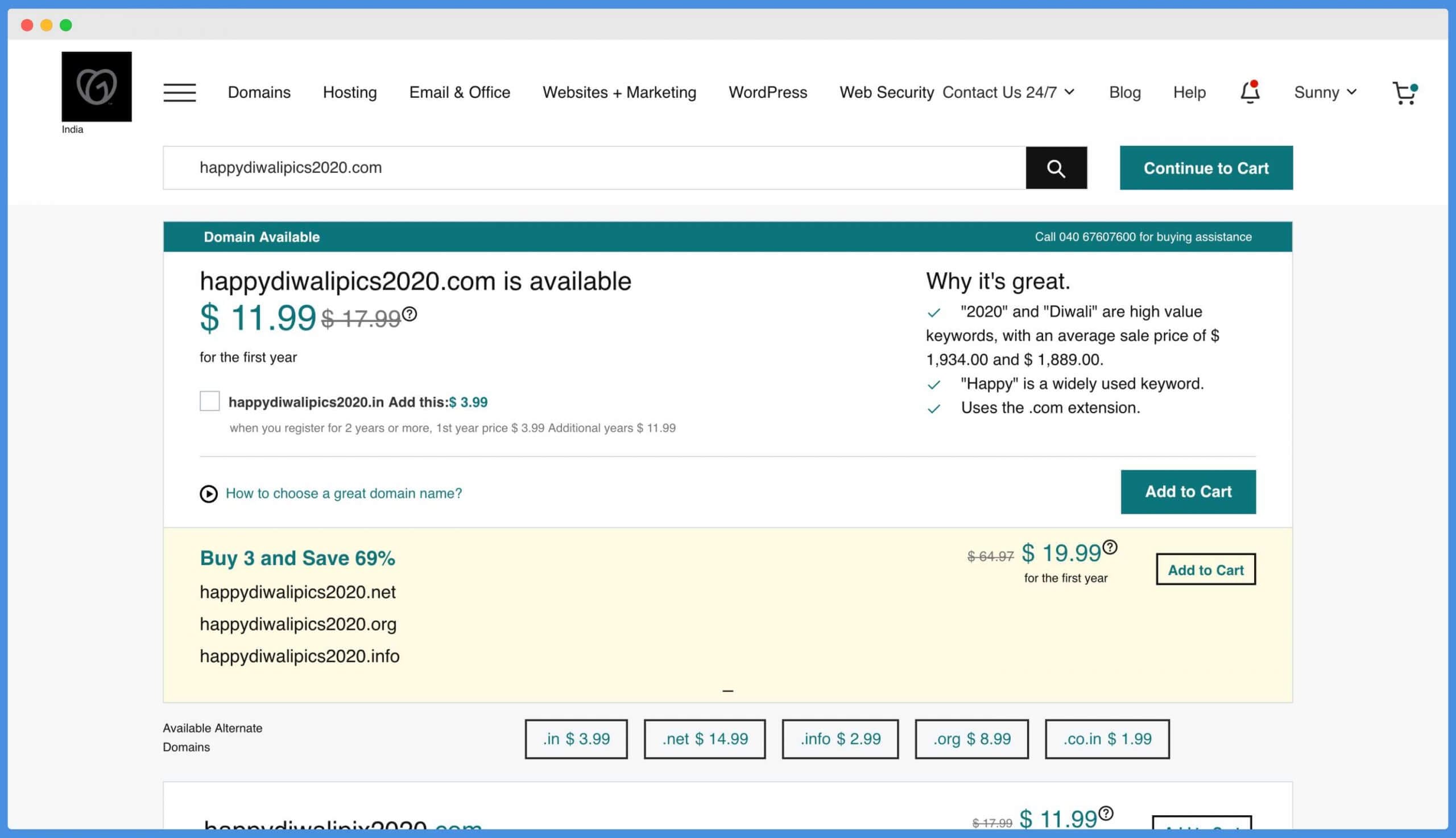 And as for choosing a domain name, if you're not getting domains like "happydiwali.com", I recommend you to move towards a domain name like "happydiwali2020.com", or even "happydiwalipics2020.com".
Apart from choosing a .COM domain name, you can also prefer other extensions – but these domain names will cost you more as compared to .COM extension.
You can also use tools like Shopify Domain Name Generator to generate domain name ideas for your event blog – but I strongly suggest you to choose an EMD domain name.
Once you choose a domain name, the next step is to select a web hosting plan.
But how to choose a perfect web hosting provider for event blogging? And what should we look at before selecting a web hosting provider?
So before choosing a web hosting plan, make sure it can easily handle hundreds or thousands of real-time visitors easily with the minimal server response time.
Most of the newbies make this mistake by choosing a cheap shared hosting provider who promotes or spam the Facebook groups on the name of best web hosting providers. Most of them even don't know how to configure their servers properly.
So I always recommend you to take a 6-feet distance from these cheap shared hosting providers and choose a web hosting provider that actually offers decent service and a 99.9% SLA guarantee.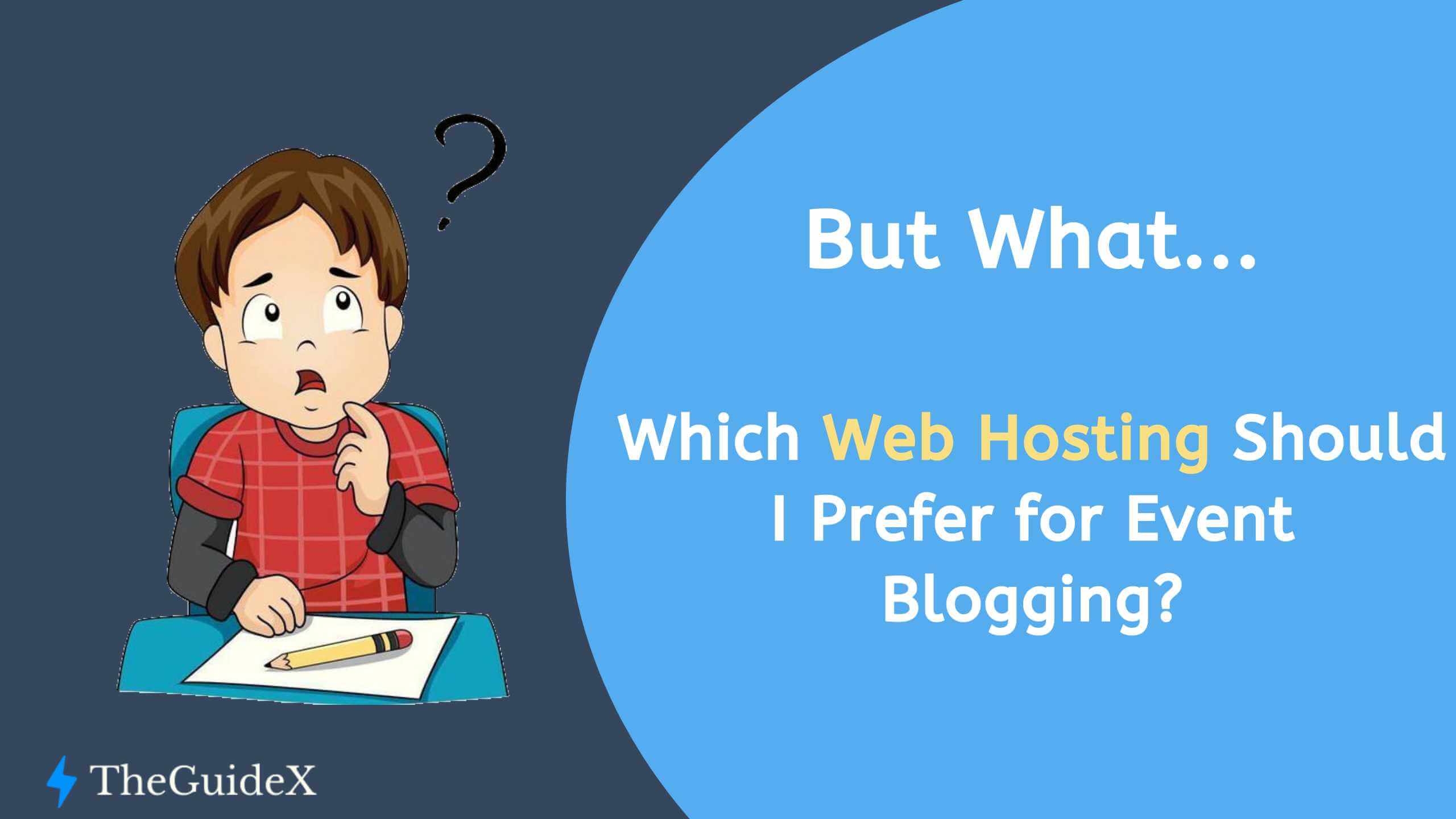 And for this, I always recommend you to host your website on DigitalOcean. DigitalOcean is one of the most preferred and first choices for event blogging. I personally prefer using this cloud hosting provider for my event blogs and trust me, they're really good at it.
With a $5 DigitalOcean plan, your website can easily handle 500-700 real-time (only if your website is correctly optimized). And trust me, this is one of the best things with DigitalOcean.
And you know what's great with a web hosting provider? They even provide $100 credits free for 2 Months, and this is great for event blogging as you only need 2-3 months of preparation to rank your website, and with this $100 free credit, your website can easily handle 3K-5K real-time visitors.
So this hosting is enough for you and for your needs!
How to Set Up Your Event Blog.
Now we have got a domain name and a web hosting plan for our event-based blogging site.
The thing we need now is to set up our website on WordPress CMS and then install a few essential plugins and a theme that is optimized for speed and SEO.
So once we installed WordPress on our website, we're ready to start our event blogging – but before we proceed further to the next point, I'm sharing a few themes and plugin names which you can prefer on your Event Blogging for an optimum performance boost.
As per it comes to choosing a theme for event blogging website, I always prefer GeneratePress. This is the theme, I use on this website (TheGuideX).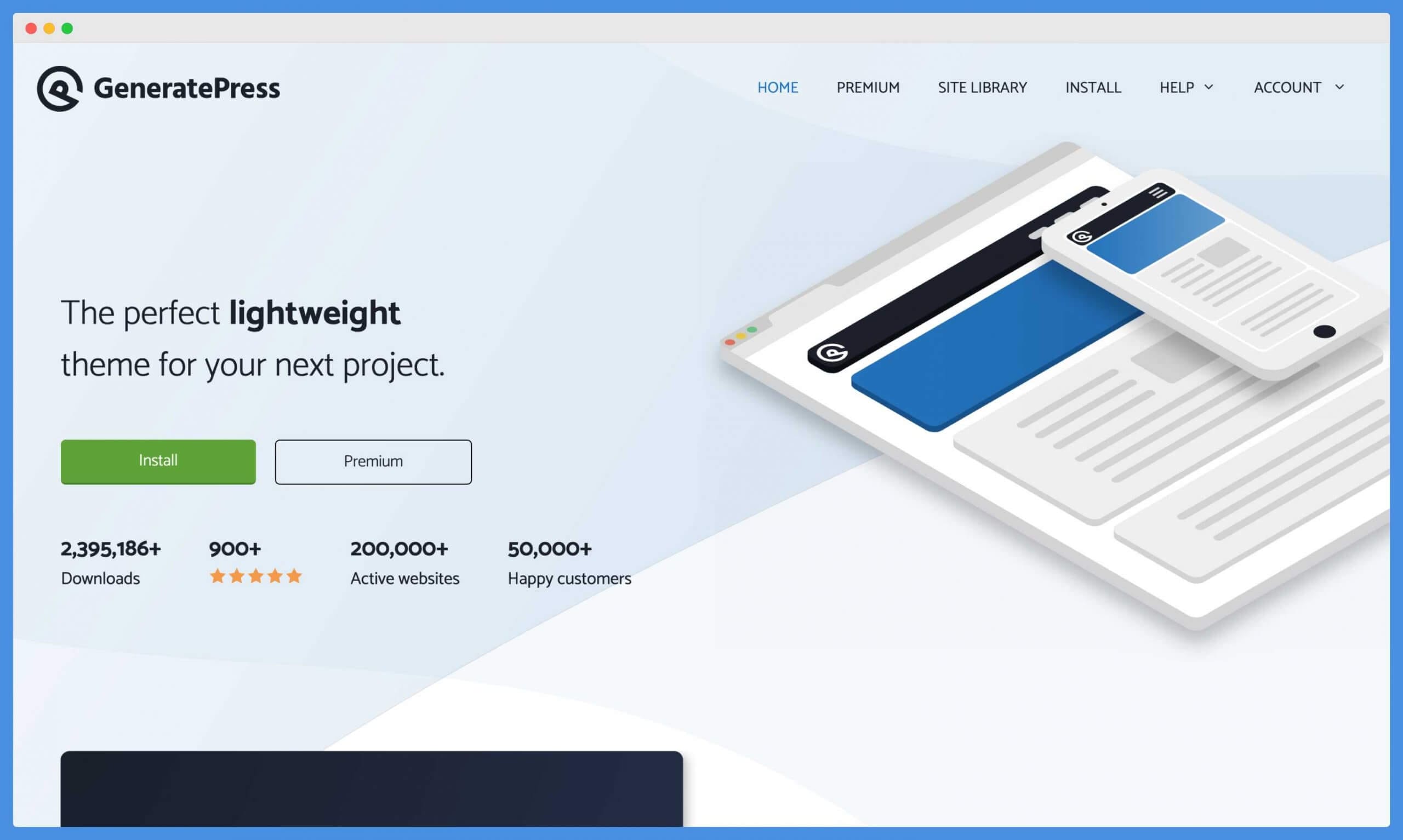 GeneratePress is one of the best themes for affiliate marketing, blogging, and for event blogging. This is one of the most downloaded free themes in WordPress repo. and you can get its premium plugin for enhanced functionality.
Apart from the GeneratePress theme, you can also choose Astra, Genesis, Schema, and OceanWP theme. These themes are fast, clean coded, and well-optimized for SEO.
Once you installed and activated the theme on your event based niche blogging site, you've to install essential plugins now. These plugins can include;
So now we know about choosing the domain name and hosting properly and even we know how to set up WordPress and install the required plugins for event blogging.
And the next step we're going to cover is about On-Page SEO.
Blogging Resources & Proper On-Page SEO.
You write an article for your event blog site, but it isn't getting ranked on Google? Or if you check Ahrefs, you find that the page has a lower number of ranking keywords?
It happens with most of the people, even when I write any post for my blog, It only ranks for a few keywords.
But how to rank them properly on Google?
This is where On-Page SEO will help you! Although On-Page SEO is way more than this… If you follow all on-page SEO factors, it will properly help in ranking your website.
When I start a niche blogging website, I focus on creating high-quality articles by implementing every on-page SEO optimizations, and most of the time if it's a niche blog, I follow the Silo Structure and trust me; it helps a lot in outranking authority blogs in Google.
So what type of…
On-Page Optimizations Should I Have to Follow?
If you don't know how to rank your article only by using On-Page SEO. Then here I'm sharing a few on-page optimization tips that actually work for me;
Custom Meta Title & Meta Description: Using a custom meta title and description helps a lot in increasing website CTR for me. According to Google, title tags still "help a lot" with your rankings.

Website Should Load Faster: We all know that ranking is one of the most important part of on-page SEO and ranking. If your website loads under 2 seconds, then Google will more likely to crawl your website pages and push your website ranking in SERPs.

Use Properly Optimized Images: We all knows the importance of optimizing images for SEO purpose. If you're focusing on a niche where people most likely to search for images rather than visiting a website directly, then I strongly recommend you to use properly optimized images for SEO. In my case, it helps a lot in getting the "image pack" result in SERP.

Short and Catchy Paragraphs: Google wants to show the content that gave everything to users they want on a single page. Always prefer short and catchy paragraphs and your page has to be EXACTLY what a Google searcher wants. otherwise, Google will bury your website page to the 3rd-4th page of Google Page.

Relevant Inbound & Outbound Links: Inbound and Outbound links play a major role in ranking your website on SERP. Recently, I published an article that ranks on the 3rd or 4th page of Google, but when I updated few paragraphs and implemented relevant authority links, it starts ranking on the first page for lots of keywords.

Frequently Updating Content: Updating content plays a major role in ranking your website on a higher number of keywords. In my amazon affiliate niches, when I update my content and index them on a webmaster, I see 40-50% increase in new keywords and Google also prefer website who always update their content.

Focusing on LSI Keywords: We all know that ranking on keywords like "Digital Marketing" is hard because it is highly competitive but we can rank our website on less competitive keywords like "Digital Marketing Schools in Delhi". And this way there are chances that our website can start ranking on first keyword too. So always include LSI keywords on your page.
Here are a few Blogging Resources and Links which can help you in event bogging;
Off-Page SEO for Link Building
The next topic is related to Off-Page SEO for building high-quality and relevant backlinks for our event blogging domain.
I know building backlinks for your domain name is one of the toughest work. And in the 2020s, people mostly charge for the links, thus getting quality backlinks is harder.
So how to start building links for our event blogging site? Does spamming helps in temporary ranking my domain name till the event lasts?
Once you created your website and added high-quality articles, I would suggest you to start building links on comment sites in starting and then move to profile links, and directory submission links. You can also try to gain a few authority links from guest posting and article submission sites.
These types of links will surely help you in pushing your website ranking in Google and within a month, most of your keywords are likely to rank on the first or on the second page of the SERP result.
And once you gain the initial ranking, start building forum links (but be careful, most of the forums are spammy and they negatively affect your website).
You can also use the DropMyLink website to start building links for your website. It really helps in building relevant links by using Google Dorks.
And the answer to other question is, No. If you build links by spamming, then there are chances that your website gets penalized before the event start, or maybe during the event day, it was buried on the 2nd or 3rd page of Google (It happens with me on a few of my event blogging niches).
So I always recommend you to play ethically.
Monetization Methods.
The next topic is the monetization methods. How can I monetize my website? And what are the best way to earn money from event blogging?
If you're starting an event blog, the best way to monetize it by using Google AdSense and Amazon Affiliate. If you're blogging on an event related to "Diwali", then you can actually use Amazon Affiliate to sell a few items available on amazon related to Diwali and also implement Google AdSense for Ads.
So here I'm sharing a few monetization methods through which you can earn thousands of bucks easily.
Google Adsense: It is one of the best options to monetize your event blogging site. Google Adsense pays you a lot more than any other monetization method. If you can get AdSense approval on your domain name, then I strongly suggest you to use this method for monetization.

Amazon Affiliate: You can use this monetization method along with your Google Adsense to increase your income. In most events like black Friday, people used to buy a lot of stuff online, and by using Amazon Affiliate you can increase your revenue.

CJ, ShareASale & Other Affiliates: Similarly to Amazon Affiliate, you can also promote other affiliate products during events like Black Friday to earn an extra commission using these affiliate networks. You can use this type of monetization methods along with Google Adsense.

Media.net, InfoLinks, and PushAds: If by any chance you're not getting approval from Google Adsense, then you can try using Media.net, Infolinks, and various other push ads to monetize your website. Although, with using these monetization methods, you're likely to earn 10-12% of revenue as compared to Google Adsense.
Wrapping Up!
In this guide, I've shared about event blogging and how you can start an event blog easily and earn thousands of dollars in a short span of time.  This is one of the easiest methods to earn money online within a few weeks or months of hard work.
Do you think there is any other tip to get more success on an event blog? Do share it with us as there is no limit to good tips on every topic.
And if you're still curious and want to know something more about the topic, do let me know in the comment section.