How to Start a WordPress Blog with SiteGround [6 Easy Steps]
Do you want to start a blog on the side while you take care of your family, juggle a full-time job, or both?
Excellent!
Whichever way, you're in the right place because I'm also a blogger too.
Blogging has given me lots of freedom and control over my time, schedule, and my life in general. As a blogger, there's no limit to your income, and you can work from anywhere you wish. This is something you'll hardly get in a day job.
Sadly, starting a blog or changing host can be very confusing, especially if you're not a tech person. But with the right tools and techniques, it's actually a lot easier than you think.
Therefore, whether you want to create a new blog or change your current host, I'll help you. In today's guide, you'll learn how to start a WordPress blog with SiteGround in 2020.
But before we start, you need to know a brief background of SiteGround and why we highly recommend it.
Brief Overview of SiteGround Hosting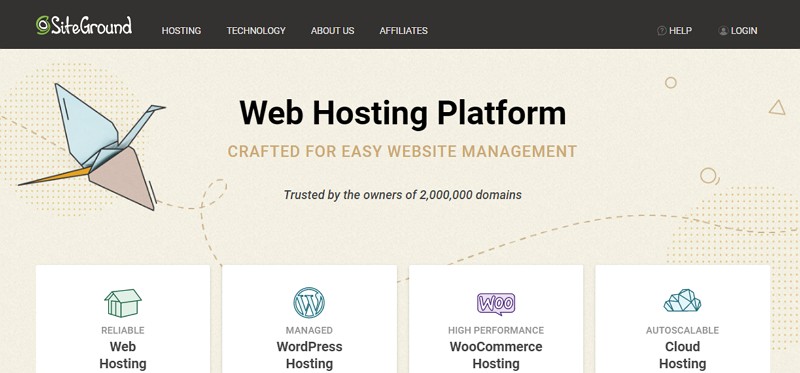 Founded in 2004, SiteGround has grown to become one of the most popular hosting companies on the internet.
Its headquarter is located in Sofia, Bulgaria, with data centers in three continents and offices in six locations. Today, the hosting brand has over 400 employees and hosts over 500,000 domains across the world.
SiteGround is also one of the most widely used and top-rated hosting company in the WordPress community, thanks to its unique in-house WordPress speed and security solutions designed to make your website as secure and fast as possible.
That's not all; the company is also famous for its remarkable 24/7 support. That is why they're an official "WordPress" recommended web hosting provider.
SiteGround has lots of fantastic features (more on this later), including:
Automatic upgrades
Inbuilt WP caching
CDN
One-click staging
GIT version control
They are equally one of the few hosting brands offering location specific hosting with 3 data centers in the United States, Asia, and Europe.
Not yet convinced as to why you should choose SiteGround instead of other hosting options? Let's look at some of its core features, maybe that'll help you decide.
Why Choose SiteGround?
While we've briefly mentioned some of the remarkable features of SiteGround hosting, below are a few of the primary things that made me love the company:
1. Speed and Performance
While price always plays a major role when choosing a hosting solution, you cannot compromise on speed and performance.
In case you don't know, speed is one of the most critical performance metrics that you should always look for. A faster blog offers a great user experience and increases your SEO at the same time.
In fact, according to StrangeLoop, one second delay can lead to a 7% loss in conversions, 11% fewer page views, and a 16% loss in customer satisfaction.
When a visitor enters your website's address in a browser, the request gets sent to your hosting server for the files. While there are many variables in play with site speed, it's mostly the job of your web hosting server to send the requested data to the user's browser as quickly as possible.
SiteGround makes a bunch of promises about site speed throughout their website. And from the numerous tests on the web about this, they live up to their words.
Additionally, one of the primary factors of website speed is Time To First Byte (TTFB). This means how promptly the server sends the first byte of the first file while responding to a user's request.
Here's SiteGround's website test result below.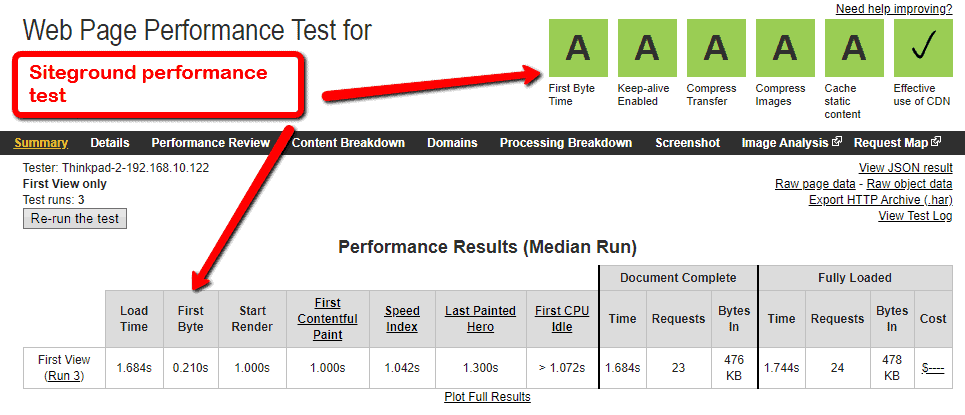 Aside from quick server performance, SiteGround also has key data centers around the world – Amsterdam, Chicago, Singapore, and London. This matters a lot because the physical distance that your site files have to travel is essential.
And many popular web hosting solutions assign customers to their one data center automatically – usually somewhere in the middle of the United States.
That's not a problem if the majority of your customers are in North America. But if your target audience is focused regionally somewhere else in the world, then your website files should be located close to them irrespective of your location.
For example, if you are an Australian expat creating a website for the Australian/Asian market – it'll be better for your site to live in Singapore, not Utah.
Finally, SiteGround does a great job with resource allocation. By definition, a shared hosting server shares resources among many customers. So it's essential to get the allocation right.
Many web hosting providers set narrow memory limits on websites to regulate performance. But from my experience, SiteGround allows substantial allocations with updated software.
They also have a very impressive uptime when compared to industry standard:
Furthermore, it's worth mentioning that SiteGround was one of the first hosting solutions to make PHP7 standard. And they keep rolling out excellent speed features for all accounts.
2. Feature Set and Integrations
SiteGround has a fantastic feature set – especially if you're more tech biased. They offer unlimited databases and email accounts.
They also offer daily backups, which is a great safety net feature if your own backups fail. Excitingly, the company has a simple user account backend and uses the industry-standard cPanel to manage your server.
For the GrowBig and GoGeek accounts, you get a free website transfer as well as a free site builder. While none of these features is really outstanding, they do put them above lots of popular hosting brands.
Additionally, SiteGround has countless unique developer-oriented features too. They integrate pretty well with Cloudflare CDN. At its "GoGeek" plan, you get free PCI compliance as well as free Git & staging areas. These are extremely useful to have integrated.
To reiterate, SiteGround's WordPress staging feature on the GoGeek package is handy if you run a high traffic website.
It can be challenging to set up staging servers where you'll be able to edit a non-live version of your website and then push it live. SiteGround makes this super easy.
I also love how they're more focused on the most popular content management systems, such as WordPress and Joomla.
They won't upsell you any fake "WordPress-specific" features, but rather, show how their inbuilt features drive better performance for both Joomla and WordPress.
That's not all; SiteGround equally offers a free SSL that installs at a click of a button. This eliminates a significant challenge to going HTTPS / SSL with WordPress.
Finally, SiteGround moved from static cache to NGINX direct delivery in December 2019. This means an improved loading speed of your website plus more benefits.
According to SiteGround:
"We no longer serve images, CSS, JS files, and other static content from the server memory, but we use NGINX for direct loading of these files from the SSD instead."
3. Website Migration
Another good reason why I highly recommend SiteGround is due to its stress-free WordPress website migration process.
Basically, if you already have a self-hosted WordPress site and you want to move to SiteGround, they make the entire migration process very straightforward.
They have a very superb plugin called "SiteGround Migrator," which you can use to move your existing site over to SiteGround effortlessly.
Although, the SiteGround team will help you move your site free of charge if you're on the GrowBig or GoGeek plan. However, if you choose the StartUp plan, you can use the SiteGround Migrator plugin to migrate your WordPress site easily.
Transferring a WordPress website with the plugin is seamless as it only involves a few straightforward steps. So anyone (even a total newbie) should be able to complete the process himself.
However, if you would like the peace of mind that comes from knowing that an expert has moved your website for you and everything has been transferred correctly, then the GrowBig or GoGeek plan maybe your best option.
4. Excellent Customer Support
SiteGround's support is indisputably amazing. To be honest, apart from WPX Hosting, I've never seen any other hosting brand whose support is as good and responsive as that of SiteGround.
Firstly, they are transparent and super responsive across a variety of channels – including phones.
Secondly, they've mostly invested in a custom knowledge base with comments customer support monitoring system.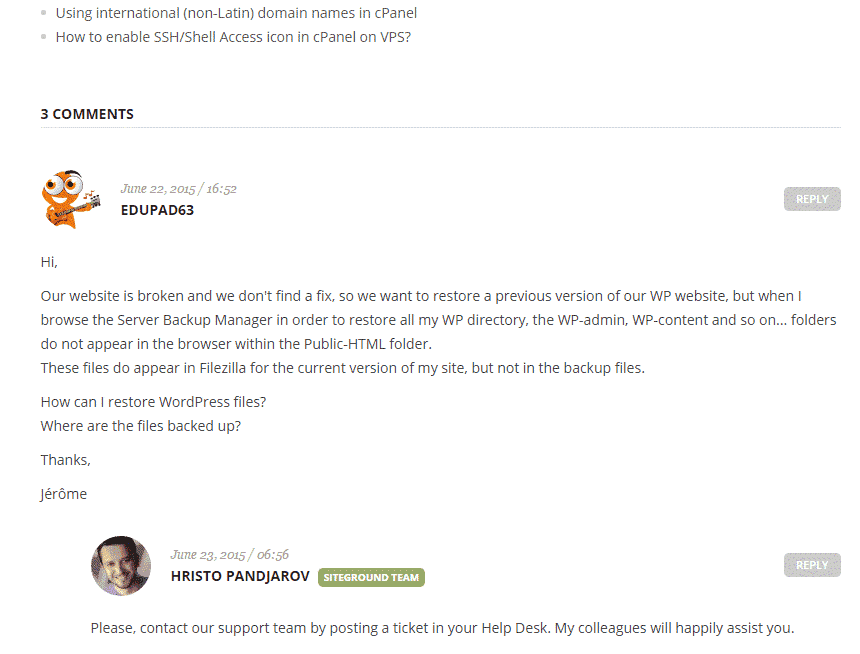 Thirdly, it's evident that they also invest very well in their employees because their employees often host technical events to train developers.
Even their customer survey result showed that 95% support satisfaction, 97% uptime satisfaction, 97% security satisfaction, and 93% speed satisfaction from their users:
And if you're not entirely convinced yet, then maybe this Facebook and Twitter polls will do the magic:
And
Overall, SiteGround is a powerful hosting solution, and I'll endorse it any day, anytime.
Now, let's quickly look at the pros and cons of SiteGround before we move to how to start a blog with SiteGround.
Pros of SiteGround
Super-fast servers: All their servers are well optimized for speed. They are fortified with the latest hardware, such as SSD drives and custom software, to ensure that your website is super-fast.
Remarkable Customer Support: SiteGround's customer support is simply fantastic. They offer 24×7 live chat, phone, and ticket support.
Free SSL and CDN: They offer swift setup of free SSL certificate from Let's Encrypt and Cloudflare free CDN.
Top-notch security: Websites hosted on their server are often scanned for malware and other security problems. Extra protection is also available via the paid SG Site Scanner add-on.
Staging sites: The top-level GoGeek plan includes a useful staging tool, but the StartUp plan doesn't.
Uptime checks and guarantee: SiteGround guarantee an uptime of 99.9% yearly (which enables for around 8h 45m of downtime/year).
Cons of SiteGround
Limited Storage: Their hosting plans feature fixed storage. But this storage is ample, and if you're just starting, then you will perhaps never need additional storage.
High renewal cost: Their intro prices are very competitive, mainly because they're for any signup period. However, they have a costly standard renewal pricing compared to the industry standard, especially for the StartUp plan.
Choosing a Blogging Platform
Here's the point: If you want to create a blog that'll make you money, go for self-hosted WordPress. This means that you'll need to buy a hosting package and then install WordPress within your hosting (I'll show you how below).
While you can also create a blog in the free blogging platforms like WordPress.com wix.com, blogspot.com, etc., it does come with a lot of limitations. And I'm not sure you're ready to deal with that right now!
That said, the self-hosted version of WordPress is the best blogging platform to date, and that's the one we'll be using for this tutorial. Take my advice and do not even consider any other platform.
If we're still on the same page, let's now get started to starting your blog with SiteGround in 2020.
How to Start a WordPress Blog With SiteGround In 2020
Before we go further to discuss how to start a WordPress blog with SiteGround, you need to decide on a niche.
However, I believe by now; you must have chosen a niche for your upcoming blog. But if not, this blog post from the guys at Authority Hacker might help you out.
With that out of the way, let's get started:
Step 1: Pick a Hosting Plan
The first step towards starting a blog with SiteGround is to choose a suitable hosting plan. SiteGround offers different hosting plans according to your budget and requirements.
To get started, Click here to visit SiteGround, click on "Hosting," and choose "Web hosting."
Once you click on that, you'll be taken to their hosting plans so you can choose the one you like. Here, the company offers three hosting plans (StartUp, GrowBig, and GoGeek). We'll shade more light on each plan below so that you can make your choice easily.
SiteGround StartUp Plan
The StartUp plan is basically for newbies who wish to run one website and are just starting out. The plan goes for only $3.95 per month.
If you are a totally beginner blogger, who want to create a WordPress blog and has a lean budget, then I'd suggest you go for this plan.
The StartUp plan comes with;
One website install
10 GB web space
10,000 monthly visitors.
Plus, all essential features (Free site builder, free SSL & HTTPS, 24×7 support, free daily backup, free Cloudflare CDN, SSH, unlimited MySQL, unmetered traffic, 3o days money back guaranteed)
SiteGround GrowBig Plan
This plan is an excellent value for individuals who operates multiple sites. It will allow you to enjoy the StartUp plan features (plus premium features). The plan goes for only $5.95 per month.
Apart from all the basic features that come with the StartUp plan, the GrowBig plan features:
Host unlimited websites
Free website transfer
20,000 monthly visits
20 GB web space
Advanced on-demand backup
Super responsive times
WordPress staging
The Super Cacher which ultimately enhances the website performance
SiteGround GoGeek Plan
The GoGeek package is ideal for people who run e-commerce websites or larger sites. It's essentially the biggest web hosting plan from SiteGround and costs $11.95 per month.
Furthermore, the GoGeek plan comes with everything the StartUp and GrowBig plan offers, plus:
100,000 monthly visits
30 GB web space
Advanced priority support
The highest tier of server resources
One-click Git repo creation
White-label site management
From all these plans, choose the one that works best for you. But I highly recommend the GrowBig plan as you can host multiple websites and will have access to more premium features.
>>>Here's our detailed review of the SiteGround GrowBig plan:
However, if you are just starting out and can't afford the GrowBig plan at the moment, then you can go with the StartUp plan and start blogging.
You can always scale up your plan when your website grows bigger. But if you can afford it and plan to host multiple sites, then don't look past the GrowBig plan.
Step 2: Choose a Domain Name
Now that you've selected your preferred SiteGround hosting plan, the next step is to pick a domain name for your site. It's essential to choose a perfect name for your site. There are many domain name generating tools that can help you with the process.
Here are a few things you should keep in mind while brainstorming for a name for your blog:
Use your name if your site is a personal brand. If not, use a branded domain
Pick a name that is easy to spell and memorize
Short domain names are always better
Avoid symbols, numbers, and hyphens
Choose an appropriate extension (the .com extension is the most popular and widely used)
Meanwhile, if you already have a domain name, then you can simply tick the "I already have a domain" button and add your domain to proceed.
But if you don't have, then you have to create a new domain name with SiteGround. Just tick the "Register a new domain" button. This will cost you $15.95 per year.
Enter your domain name and wait for a second to verify its availability.
Like I said earlier, if you already have a domain name and just want to transfer your site, SiteGround offers a free website transfer.
Great, you have now completed the second step, let's proceed to step 3:
Step 3: Configure your account Information
Now that you've chosen a hosting plan and also confirmed your domain name, the next step is to configure your hosting account. This involves entering your account, personal, and payment information.
Account Information
The first step here is to create your SiteGround account login details, which includes your email address and a password:
This will be your SiteGround hosting cPanel login details, so you want to ensure you use a very strong password.
Personal Information
Once you've entered your email and chosen a secure password, the next step will be to enter your personal information:
This includes:
Name
Address
Mobile Number
Country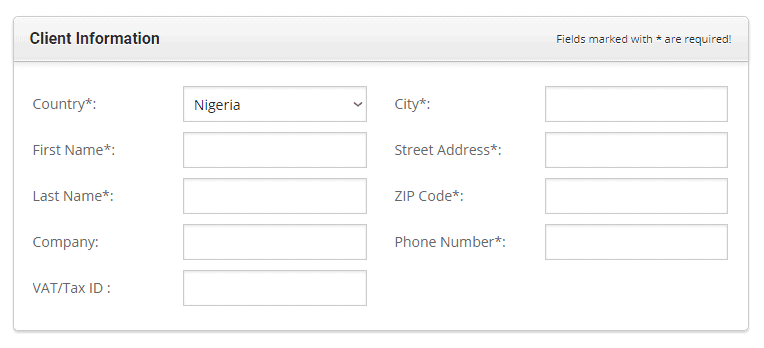 NOTE: It's vital that you enter your correct details here and fill up the form.
Payment Information
And it's now time to pay for your SiteGround hosting service. Here's where you'll need to enter your card details.

SiteGround Hosting accepts three types of cards:
Master Card
American Express
Visa
You can scroll down completely to see the total amount you will pay.
Enter your payment details and proceed to the next step.
Configure SiteGround Hosting Plan
Now that you've filled in your payment information, let's go and enter your purchase information: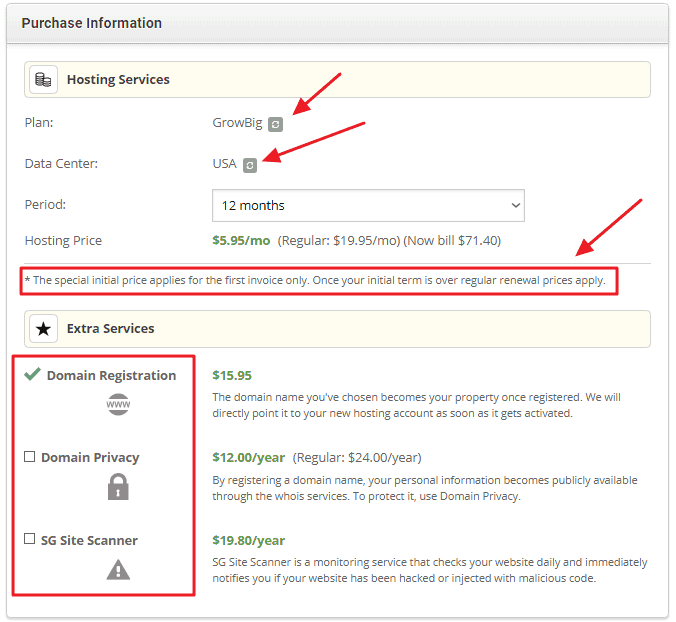 In this section, you're expected to choose/confirm the following:
Hosting Plan: Confirm the SiteGround Hosting plan you decided earlier, I've already recommended the GrowBig plan for you.
Server Region: SiteGround has three major servers around the world; you'll want to choose one that is nearest to your target audience. For me, my target audience is in the U.S, which is why I selected the U.S, as you can see on the screenshot above.
Hosting Period: Choose a hosting period. Remember, while the introductory price is very cheap, SiteGround's renewal cost is pretty high. So, I'd suggest you buy up to 2-3 years' worth of hosting. This way, your blog must have started making money to cover the high renewal fees before it expires.
However, if you can't afford to pay for that long, then go for their 12 months billing.
Domain Registration: If you don't have a domain name yet, and you're registering a new domain name with SiteGround, then you have to pay $15.95 for the new domain.
Domain Privacy: Because you're registering the domain with SiteGround, they'll offer you free domain privacy. This means that your personal information, such as name, address, phone, etc. will be hidden from the general public.
SG Site Scanner: Fortunately, SiteGround is already a highly secure hosting solution. So you don't necessarily need this service. So there's no need to pay the extra $19.20 per year for this service.
I'm also not using this service on my SiteGround account, and I've been using SiteGround for years without any issues.
So don't overthink about the SG Site scanner and just proceed with the default SiteGround security.
Now, check and confirm that all the information you entered is correct.
If everything is correct, go ahead and click on the "Pay Now" button to complete your payment.
Congratulations!
You now have a premium hosting account. Let's now go and install WordPress on your server and create your blog.
Create Your Blog and Install WordPress
Once you've completed your payment, you can now login to your SiteGround hosting account dashboard. From the Dashboard, you can easily manage your cPanel, billing, support, etc.
To create your blog, take a look at the right side of your dashboard, you'll see a rocket man with a "set up in 2 min" button. This feature will help you to create your WordPress blog on SiteGround.
So go ahead and click on the button to continue. Clicking on this button will instantly take you to the setup wizard.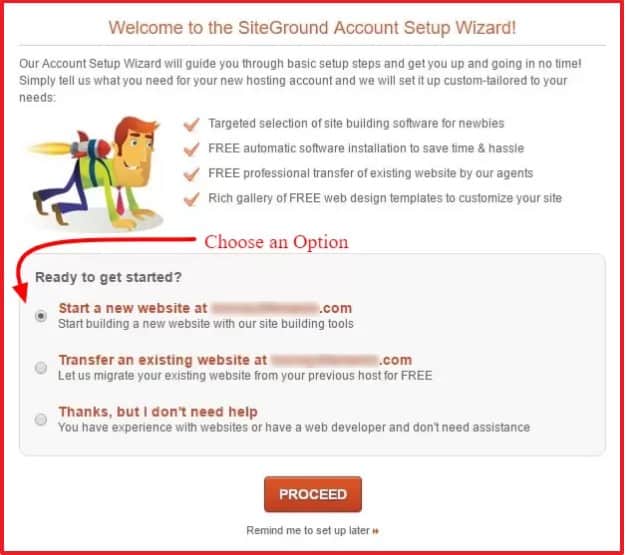 Here you have to choose an option:
Start a New Website
Transfer an existing website
Do it your own way
Because we're starting from scratch, you'll have to select the "start a new website" option:
Now, choose your type of website and install WordPress.
After you've completed this step, enter the login details that you will be using to access your WordPress dashboard later. This includes your email address, username, and password. Remember to use a very strong password, and the one you will not forget.
Congratulation, you've successfully installed WordPress on your hosting server.
Step 4: Login Your WordPress Dashboard
Now that you've installed your blog, let's quickly access your WordPress dashboard. To do this, visit "yourdomain.com/wp-admin," and you'll be taken to where you'll enter your username and password:
Enter your username and password, and you'll be taken to the WordPress dashboard. This is where you can control your entire WordPress site.
Step 5: Install a Theme and Plugins
You now know how to start a WordPress blog on SiteGround. The next thing is to customize the design of your new website by installing a theme.
Good enough, the WordPress repository is made up of countless beautiful free themes. Simply choose any of them.
Sometimes, however, you might end up not finding your desired free theme. In such a case, just search on Google for "best premium WordPress themes" to get what you want.
Aside from that, WordPress equally has a ton of plugins that will add various features to your blog. Depending on the functionalities you want, search the plugin section, and you will find it all.
Again, if you're not able to find a suitable plugin, a Google search will also reveal a lot to you.
Step 6: Start Blogging
Your SiteGround powered WordPress blog is now up and running. Go ahead and publish your first blog post.
On your WordPress dashboard, click on "Posts" on the left sidebar menu, and select "Add New."
Here, you'll see the WordPress post editor. That's precisely where you'll be writing your blog posts.
You also have the option to add images, videos, and GIFs to your posts by clicking on the "Add Media" button.
Additionally, the WordPress post editor has several other useful formatting features you can use on your blog.
When you're done writing your blog post, hit the "Publish" button on the top right corner of the editor to publish it. Voila!
More Tutorial on How to Start a Blog:
Conclusion
I told you earlier that this guide will be a complete process on how to start a WordPress blog with SiteGround. I hope I've been able to keep to that promise.
After this post, I also hope you'll go ahead and start your own blog with SiteGround immediately. You don't have to waste any more time on this, take action now and create that blog you've always wanted to launch. Click here right now and get started with SiteGround.
But if there's anything that's stopping you from getting started, share it with us in the comment section.