What is a Blog? Intro to Blogging and How it Works in 2021
Blogging has changed drastically over the last 15 years.
What once started as a way to share journal-like updates with followers has evolved into a Google-driven powerhouse of online monetization.
I launched this blog in 2019 and a side hustle while working full time. Today, it makes over $80k per month, mainly from passive income streams.
The potential in blogging is huge.
In this guide, I'm going to cover what blogging is, the history of blogging, the different types of blogs, and how to make money blogging today.
Let's get started.
What is a Blog?
A blog is a regularly updated website or series of articles, usually run by an individual or small team, that is written in a casual and conversational style.
Initially created from the words web and log, a blog is basically logging your thoughts, ideas, experiences, and more – all in one place on the web. You can even call it your online journal.
In the old days, people used to store diaries as personal logs of their daily routines. With the advent of the Internet, they started migrating these diaries online and maintaining them digitally.
That's how the first weblog started – around 1994. With time, people realized that these were powerful and effective communication methods that could have a strong influence over large groups of people.
People began writing about their experiences, activities, interests, questions, thoughts, hopes, dreams, and doubts. Many of them created their own websites where they could maintain a repository of all their writings. These came to be known as 'weblogs.'
As we know them today, blogs are the short-form of 'weblogs,' a term coined by Jorn Barger in 1997.
While most blogs today consist of text, videos, infographics, and images arranged in chronological order, they weren't as attractive back then.
Here's one of the oldest blogging platforms called Open Diary: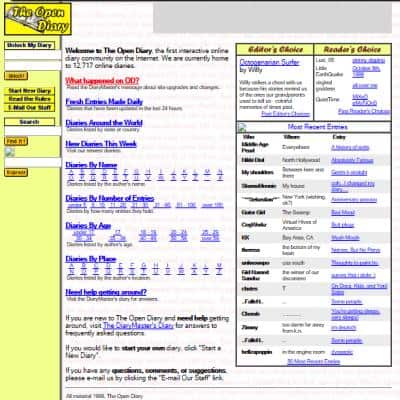 Open Diary was launched in 1998 and had a membership model. They allowed access to members who could leave comments on other people's posts.
Even if you were unfamiliar with the term, you've probably stumbled across thousands of blogs.
Whenever you have a question, you probably immediately rush to search for it on Google.
For example, if you want to start an ecommerce business, the chances are that you'll Google it first before making any plan yourself.
And here are the results you'll get: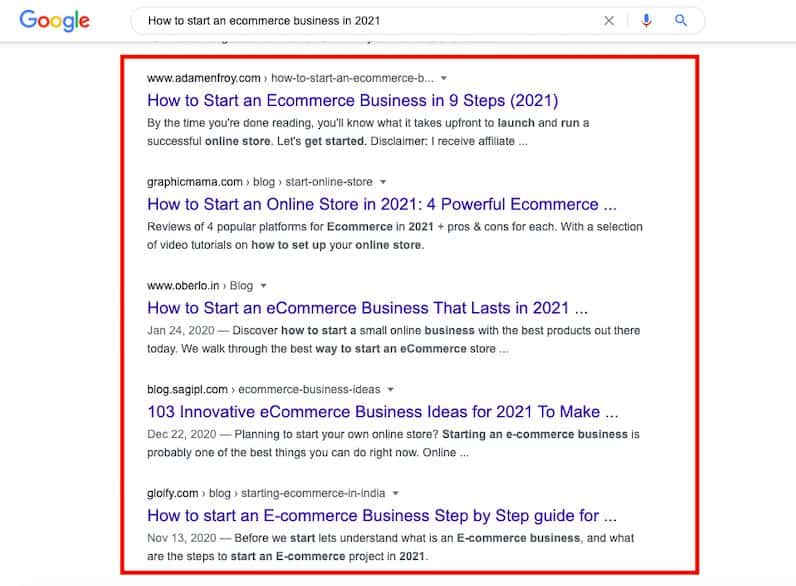 These are all blog posts.
The web page you're currently on is also a blog post.
Most blogs are dedicated to niche segments and can serve as rich sources of information. These blogs are usually updated at a predetermined frequency and are maintained by individuals or a group.
Blogging saw a tremendous increase in the last couple of years. In fact, the number of active bloggers in the US saw a 12% increase in the five years from 2015 to 2020. In the US alone, there were more than 31 million bloggers as of 2020.
They have become so popular over the last decade or so that there is seldom any topic on the face of the Earth that doesn't have a dedicated blog. About 77% of internet users read blogs, and it's also rated as the 5th most trustworthy source of information.
Some of today's most famous blogs are HuffPost, Mashable, Engadget, and Gizmodo.
What is the Purpose of a Blog?
The inspiration for blogging varies from one person to another. While blogs are no more than personal logbooks for some people, they might be an income source for professional, full-time bloggers.
So, there can be myriad reasons for starting a blog. But the central tenet of any blog is that it should point out, talk about, and solve different problems.
Let's talk about the five most essential purposes of a blog:
1. To Share Information & Build Authority.
In 'The Rational Optimist,' Matt Ridley persuasively argues that a significant factor in human evolution is the focus on specialized skills that differentiate individuals. The path to progress gets built when every individual with specific skills solves varied problems.
And you can use your blog as that "path to progress."
For instance, I initially started this blog to document my experience in digital marketing and blogging. Over time, this blog helped me connect with various experts and build tremendous authority in the niche.
Now, this blog attracts about 500,000 monthly readers and helped me get featured in publications like Forbes.
When you provide answers to relevant questions and generate insights, it helps you garner public goodwill and boost your brand awareness. It helps you get the number of likes and views you need to stay afloat and creates an online presence.
Thus, a blog can act as an effective medium to display your unique knowledge and skills to the readers who need your domain expertise. You can engage interested viewers and help them solve problems – and in the process, become an authoritative leader in your preferred segment.
2. To Help You Rank on Major Search Engines.
In this world of cut-throat competition, it's easy to get swept under the carpet. A good information dissemination platform helps you rise through the ranks by providing the right information to the right audience at the right time.
Your blog can help you boost your SEO (Search Engine Optimization) and SERP (Search Engine Results Pages) ranking considerably.
The higher the number of visits you get, the greater your SEO rankings get boosted, in turn enhancing your online visibility.
Here are some quick tips to optimize your blogs to rank higher in search engines:
Add relevant keywords in your blog post, heading, URL, meta descriptions, etc.
Increase the length of your article. (You'll notice that all top-ranking articles are usually 1000+ words.)
Update your blog content frequently since Google is more likely to rank new content over older content.
Focus on internal linking.
Optimize your images and add alt descriptions for images.
Make sure to go through my guides to link building and SEO for bloggers to learn more strategies to help your blog rank higher in search engines.
3. Monetization.
Transformation into an authoritative leader exponentially increases your capability to influence readers online. As a result, the probability of conversion to sales also increases for your website.
According to research by Demand Metric, companies who maintain blogs can generate up to 67% more leads than those who don't.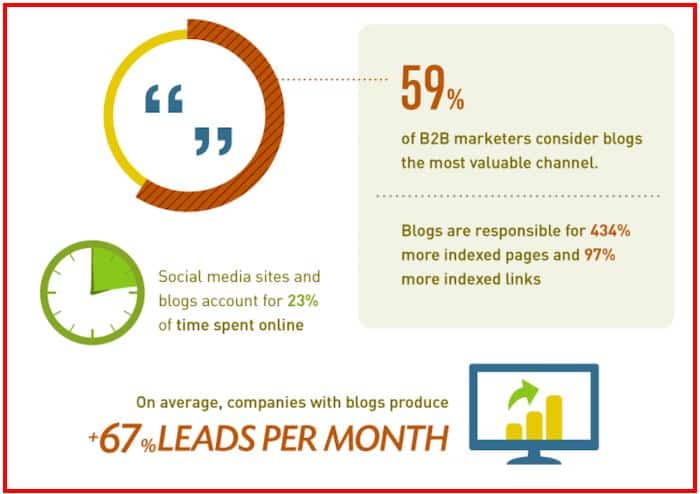 Aside from lead generation, blogs can also help you earn a decent passive income in various other ways. Some bloggers are even able to scale up their blog and make it their primary source of income.
According to a survey of 130 bloggers in different niches, around 14.8% of bloggers make $5,000-$10,000 monthly.
Here's a complete breakdown of bloggers' income in that survey:
All top-tier bloggers generate their blogging income in a variety of ways.
Here are different ways to monetize your blog to diversify your income source:
Join various affiliate programs in your niche and earn money from affiliate marketing.
Display ads by signing up for ad networks like Google Adsense, MediaVine, and AdThrive.
Partner with brands to sponsor their content.
Create online courses.
Create and sell eBooks.
Sell both physical and digital products.
While blogging may be a favorite pastime for some, it can be the sole source of income for others.
4. Business Development.
Businesses now realize the benefits of blogs and their importance to company revenues.
According to HubSpot's marketing report, 55% of marketers consider blogging to be their top inbound marketing priority.
And you might also want to reconsider if your business site doesn't have a blog yet. If you look at the statistics, websites with associated blogs usually get 55% more visitors, 97% greater inbound links, and 434% more indexed pages.
Businesses that run parallel blogs also receive double email traffic, which is a testament to the improved business opportunities.
You can use your blog as a medium to solve your audiences' problems even before they explore your products or services.
For example, if you sell beauty products on your online store, you can write about useful makeup tips on your blog. You'll start to attract your target audience, who begins to find your content valuable in their real lives.
By this point, they enjoy your content, find it helpful, and trust you as a brand. That's when they're going to check out products and end up making a final purchase.
5. Brand Development.
There are a lot of professional opportunities for professionals with the right skills in the real world. But the problem is that people don't know where to start looking.
This is where a blog can make a huge difference – by serving as your talent indicator.
Blogs can act like magnets and help you get the right opportunities you've been looking for all this time. In a nutshell, blogs talk about you and help embellish and develop your personal brand.
The amount of exposure and limelight blogs can provide to companies and individuals is slowly making it an indispensable part of marketing and branding activities for industries across domains.
How Do Blogs Work?
Blogs are now a standard and irreplaceable part of many businesses and the overall online world. The main advantage of blogs is that they can provide a platform to anyone with an internet connection.
Now professionals and novices alike can share their thoughts, experiences, preferences, choices, and opinions and influence public opinion at little to no cost. They can create their presence in the market and be known as subject matter experts.
Before you start a blog, it's essential to select your niche.
Today, some of the most popular blogs are movie blogs, politics, travel blogs, celebrity lifestyle blogs, professional sports blogs, fashion blogs, etc. Many blogs offer insights into career choices and progression paths. There are also blogs dedicated to helping beginners to start their own blogs and make money blogging.
A blog typically consists of one main page displaying blog posts, along with other essential elements, spread all over the main blog page.
Here are some essential elements your blog should have:
Embed social media sharing buttons so that your readers can easily share your links to different social media websites like Facebook and Twitter.
Create engaging CTA buttons to encourage readers to know more about you and your blog.
Add an author profile along with your name, social media platforms, headshot, a brief bio, email, and more.
Add a search bar so that your readers can quickly discover a blog post they want without having to scroll down.
Write a meta description for your main blog page.
Besides, make sure to add a comment section to connect with your readers further and build loyalty.
Don't forget to add an email subscription option either if you want to grow your email list. Furthermore, add attractive cover images and in-post images, and other graphics to engage your readers and make them stay longer on your blog.
Blogs vs. Regular Websites.
To the naked eye, blogs may not seem much different from websites. People may ask, why bother with blogs when you can get all information from dedicated websites?
One of the most interesting aspects of blogs is the universe they have successfully created online – known as the blogosphere. The blogosphere is a vast network that has been organically built over time by interlinking related blogs.
You may arrive in the network searching for a particular blog that you need to access and end up finding a cross-linked article that's far more useful to you. Readers can also stumble upon a blogger they connect with more intensely and become a regular consumer of their blogs.
Something like this is easier to build with a blog than with a regular website.
Secondly, blogs are much simpler to use and access. Unlike most websites, blogs don't flood you with information the moment you visit their page. Websites are built on aggregated content from multiple individual contributors whose writing styles may vary hugely.
Some contributors may give you lots of information, while some unnaturally taciturn in their content. Readers may find adjusting to the myriad tones difficult.
On the other hand, blogs are maintained by individuals or a small group of like-minded contributors whose writing styles are quite similar in most cases. Therefore, they help create a connection between the reader and the blogger and allows space for personalization.
Readers can get acclimatized to the kind of content they desire, which makes learning all the more fun.
Basically, the secret ingredients for making blogs work are the passion that the writers bring into their content and their desire to share information about something they're excited about.
What Are the Different Types of Blogs?
The world of blogging is limited only by the extent of your imagination. Therefore, there can be no threshold on the blog topics and types in the world. You'll probably find a blog on any domain you desire.
But broadly speaking, blogs can be divided into six extensive types that cover all the associated domains.
Let's find out about them:
1. Personal Blogs.
When blogs first burst into the scene in the 1990s, they were essentially personal blogs. The first man to post a blog online was a student called Justin Hall in 1994, and it was his homepage.
Even now, personal blogs are prevalent. Bloggers pour their hearts out in these blogs and talk about their hobbies, interests, or even something as banal as their daily activities. Most personal blogs are curated by an individual or a small group using platforms like WordPress and Blogger. These platforms help you start your blog for free and make it possible to create an account and post your first blog in a matter of minutes.
Here are some example of highly successful personal blogs:
2. Corporate Blogs.
Corporate blogs are business-oriented blogs. Company employees or freelancers usually maintain such blogs, specially hired to post blogs aligned with their employers' business interests.
For example, a company that deals in blog hosting can talk and write about blogs and highlight the competitive advantage they can provide to their customers in the market. AWS from ecommerce giant Amazon runs a fantastic blog designed to answer queries and call attention to their unique value propositions.
These blogs are usually helpful to generate leads for your business and turn those leads into paying customers.
3. Professional Blogs.
Professional bloggers usually don't write for companies, although some of the professional bloggers can be freelancers. They write blogs to bring attention to their businesses or efforts.
They tend to make a living by blogging professionally, rather than looking at it as a means to a side income. The end goal in these cases is monetization through their blogs. In such cases, the blogger usually has expertise in a niche field and tries to solve problems and provide advice online.
They rely on avenues like affiliate marketing and selling display advertisements while targeting a broader audience to maximize conversions.
4. Niche Blogs.
As the name suggests, these blogs are dedicated to niche segments rather than broad topics and essays about various things. Their target audience usually consist of a small group of readers with similar interests.
Topics may encompass fields like fishing, sewing, mountaineering, skiing, parenting, calligraphy, philately – the list is endless.
Take this blog called Visor Down, for instance: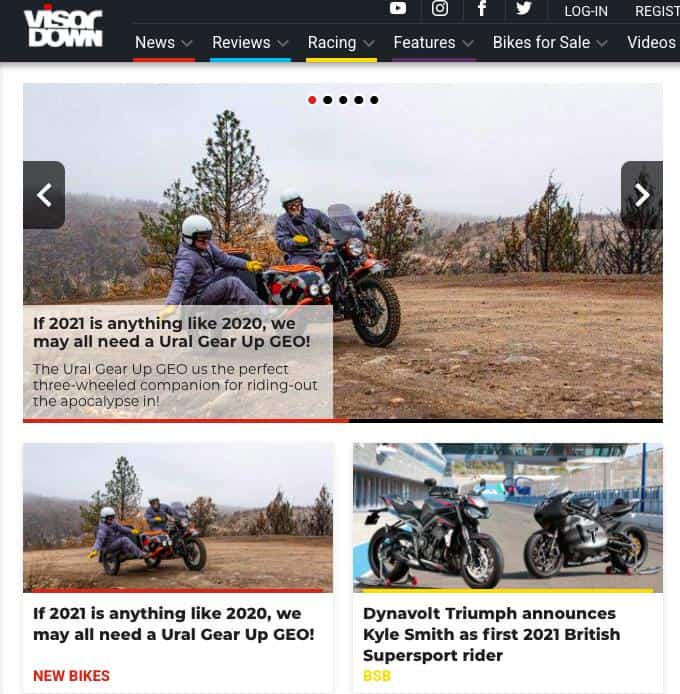 Visor Down is a niche blog aimed at readers who share a passion for high-end motorcycles.
If there is a niche, there is a blog for it.
5. Reverse Blogs.
These blogging platforms rely on their customers and audience to supply blogs for public consumption, rather than relying on the blog owner for content generation all the time. Of course, the owner also creates content, but not all the time.
In this case, blogging is an onus shared by the blog owners and its readers alike. Members of the audience who share content are called guest bloggers. Reverse blogs promote more significant interaction between peers and allow the unbridled exchange of ideas, helping foster more creativity.
For example, Medium is an open platform that enables reverse blogging.
6. Affiliate Blogs.
Affiliate marketing is my favorite form of blog monetization. It makes me over $70k per month and is the most passive form of revenue.
They aim to influence readers and nudge them down the sales funnel by linking to products that might interest a reader. For every sale made via the affiliate marketer's platform, they earn a commission.
Most affiliate bloggers will advertise the products and services of multiple brands to increase their chances of sales.
I'm currently in over 200 affiliate programs myself.
The best way to get started with an affiliate blog is to understand search intent and the difference between transactional and informational Google searches.
What Are the Best Blogging Platforms?
Best blogging platform will vary based on several factors like your budget, business goals, monetization goals, and more.
However, here are my top three picks for the best overall blogging platforms.
Best overall blogging platform for beginners (Open-source).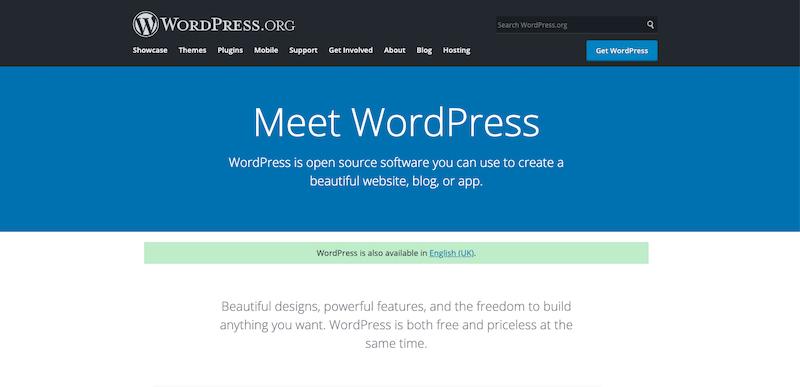 WordPress is one of the most popular blogging platforms, content management systems (CMS), and website builders. Even a beginner can use this open-source platform to build and publish their blog. All you would need is a domain name and web hosting.
It enables you to build different types of websites, including a personal blog, eCommerce platform, portfolio, online course, forum, social network, and more. You get a user-friendly, drag-and-drop block editor that enables you to develop complex web page layouts without any coding.
Hundreds and thousands of website and blogging themes offered by WordPress for free is another bonus.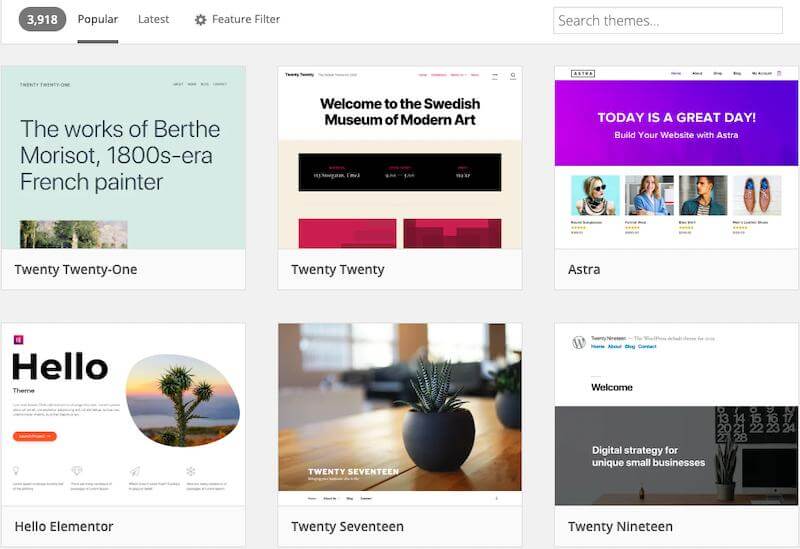 You can further customize these themes by simply adding text and using the insert button to add images, videos, and more. You can also create different layouts, including spacers and multi-column designs.
On top of that, you can install the page builder plugin to leverage features like drag-and-drop and visual interface to create more detail-oriented designs.
Aside from customizable themes, WordPress.org also offers thousands of plugins for various tasks like SEO, blog post scheduling, designing, etc. You can also leverage plugins to customize the layout and add new features to the website without writing any code.
Another advantage of using WordPress.org is that it's self-hosted. That means you own the data entirely, and it stays on the server of your choice. WordPress also offers an extensive repository of learning material through which you can learn and build and start a blog easily without much technical expertise.
Pricing:
You can start a simple blog with WordPress.org for free. However, you'll have to purchase a custom domain name and hosting from hosting platforms like Bluehost. For more advanced features, you have the option to purchase paid themes, plugins, and other third-party tools.
Squarespace is a SaaS-based website builder that provides website building and hosting. It comes with pre-built website templates and a drag-and-drop builder to design and edit web pages. You can use the templates to build your blog quickly – without any coding or technical know-how.
With Squarespace, all of your webpages consist of content blocks and sections to help you instantly design a page without elementary work. You can also use the content blocks to easily place text, images, video, maps, buttons, and more. Another good thing is that all of the sections are customizable to add more content blocks.
You can also include custom backgrounds, colors, and padding for each section. It offers a user-friendly focal point editor to crop images for thumbnails.
You can also include a customizable content block "Menu" to display your product menus intuitively. You can further also customize its fonts, colors, and borders to align with your brand.
Some of its other key blogging features include:
Marketing and SEO tools.
Ability to schedule posts.
Category/tag support.
AMP integration.
Multiple author support.
Customizable URLs.
External link options.
A free domain name for the first year.
You can select from its four collection page options, including store, events, blog, and portfolio. Squarespace also offers a mobile preview button to help you edit the mobile version of the website. Y
ou can select from its extensive list of templates based on multiple parameters like SEO, pricing, integration, features, tools, and more.
Squarespace comes with four pricing plans:
Personal: $12 per month
Business: $18 per month
Basic Commerce: $26 per month
Advanced Commerce: $40 per month
You also get a free trial and 24/7 customer support with all the plans.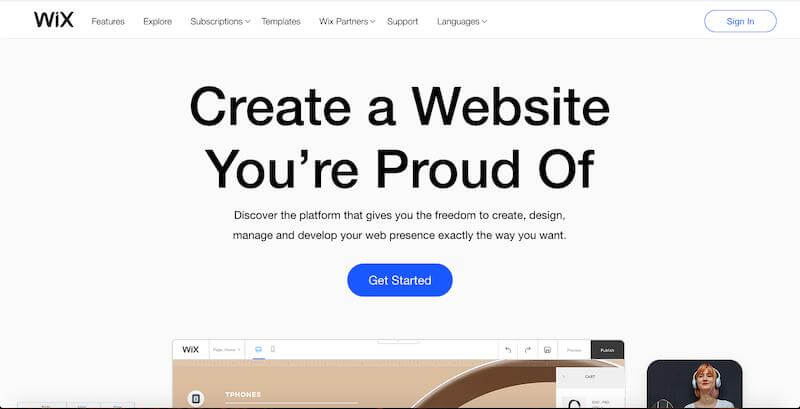 Wix is a cloud-based web development software that helps you create HTML5 websites and mobile sites using drag-and-drop tools. Wix offers over 500 industry-specific themes and templates for small businesses, ecommerce stores, artists, eateries, and more. Websites built on Wix are automatically optimized for mobile versions.
You can further customize the templates using the drag-and-drop editor. It also allows you to add custom features like contact form, graphics, GIFs, stock images, video, tables, and more. You can also leverage its mobile website editor to make changes that will reflect only on the mobile website.
Additionally, it offers an app market that provides various third-party plugins and tools to add new features to your website. The app market also offers multiple themes, photo galleries, layouts, headers, and more. All of these features are customizable, and you can change colors, fonts, layout, and sizes.
Wix blog also comes with built-in SEO tools that can help you optimize the website for SEO. If you are a beginner, it also guides you through the entire SEO process and enables you to execute all the essential points.
Wix offers four pricing plans:
VIP: $39 per month
Pro: $23 per month
Unlimited: $18 per month
Combo: $14 per month
You also get a 14-day free trial that you can cancel any time you want.
History of Blogging.
Let's dive into the history of blogging.
All of us have read blogs, but they gained significant popularity in the last few decades. In a nutshell, we can say that blogs have a short history but are now an inseparable part of the digital world.
Here's a brief overview of the history of blogging:
The Early Years.
The First Blog – The first blog is known by the name of Links.net. Justin Hall, a Swarthmore College student, launched it in 1994. However, it wasn't called a blog at that point in time – and Hall called it his personal homepage.
It's still active, and the last entry was January 5th, 2021.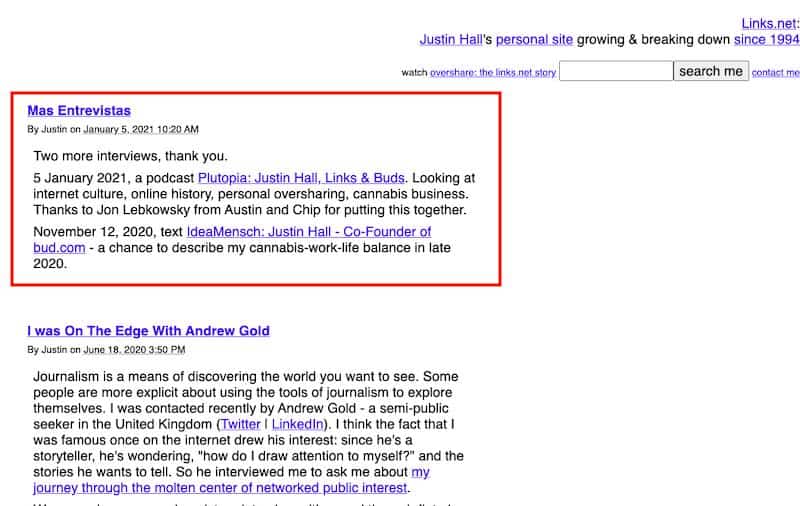 Coinage of the term 'Weblog' – Jorn Barger first coined the term "Weblog" in 1997. He used to run the blog Robot Wisdom. The term "weblog" signified the process of "logging the web." 1998 marked the first event where a blog got posted on a new website. Jonathan Dube posted the blog about Hurricane Bonnie for The Charlotte Observer.
'Weblog' trimmed down to 'Blog' – The word computer programmer Peter Merholz trimmed down the term "weblog" to just "blog" in 1999.
The advent of new blogging platforms – This was also when a few blogging platforms mushroomed over the internet, including LiveJournal. In 1999, Meg Hourihan and Evan Williams started a blogging platform that later became Blogger.com. It's one of the prominent names that made blogging a cool thing in the digital space.
Word of the year – In 2004, Merriam-Webster declared "blog" as the word of the year. In its earlier years, blogs got updated manually and were typically linked to an archive or the main home page.
Growth of Blogs.
Fifty million blogs by 2006 – The early years of 2000 witnessed fast growth. As per Jesse James, there were just 23 blogs in 1999, but the number ballooned to over 50 million blogs by 2006.
Political blogs grew into popularity – Political blogs became hugely popular as politicians like Wesley Clark and Howard dean started their personal blogs. There were also several events where bloggers broke political stories that were then picked by the mainstream media. In-depth blogs on various topics and niches also became popular during the same period. These blogs delved deeper into pop culture, news, and mainstream trends.
Rise in how-to guides – How-to guides and articles also started cropping up in early 2000. Meta blogs also contributed significantly to the rise in the number of blogs. Blogs like Boing Boing and Huffington Post rose to prominence in the early years of 2000.
Inc. sold for $25 million – Jason Calacanis started Inc. in 2003 and later sold it to AOL for a whopping $25 million. This deal also brought a lot of credibility to the blogging community.
Launch of WordPress – 2003 was the year when WordPress got launched. However, some parts of its development go back to 2001. Today, WordPress blogs amount to 60 million blogs out of all the blogs globally.
Based on Movable Type, TypePad also got launched in 2003. Technorati was the first big blog search engine that came into existence in 2002.
Launch of AdSense – 2003 also saw the launch of AdSense, an online advertising platform. It was the first network that matched ads with the content. It made it possible for a blogger to make money without making any considerable upfront investment. After bloggers started making money through blogs, the boom of meta blogs came.
Going Mainstream.
Blogs became mainstream in 2005 – Blogs became more mainstream around 2005. More than 10% of the entire population of the USA started to read blogs by 2005. In the same year, Garrett M. Graff became the first blogger to cover the White House.
This also encouraged mainstream media outlets to launch their own blog. Several organizations also collaborated with existing bloggers for additional commentary and coverage.
By the mid-2000s, personalities in the political circles, including candidates and consultants, started extensively using blogs to fuel their campaigns. CNN collaborated with Mashable, and AOL bought TechCrunch in a bid to increase their reader base.
150 million active blogs by 2010 – By the end of 2010, there were over 150 million active blogs worldwide. Almost all major news outlets now had a blog, along with individuals and businesses.
Blogs adapting to social media – Social media started getting popular after 2010. Platforms like Facebook, Orkut, and Twitter gained traction in the social space. People were now reacting faster and writing shorter content on their profiles.
The popularity of social media stumped the popularity of blogs. However, blogs adapted eventually, and new blogs are growing a sizable fan following on different social media.
Blogging is still alive and thriving today. There are over 500 million blogs out of 1.7 billion total websites in the world to this date. However, not all blogs share their data publicly. Hence, there are chances that the number of blogs worldwide is significantly higher than 500 million users.
Summary.
Starting a blog is easy and considering its growing popularity and effectiveness, you consider starting one too.
However, scaling your blog will take time, hard work, consistency, and a working strategy in place. You can begin by selecting your niche and deciding the type of blog you want to start.
After that, choose a blogging platform, build your site, and buy a domain name and web hosting.
If you want to build and run a successful blogging business, check out all of my detailed blogging content.