What is Difference Between On Page SEO and Off Page SEO
It will be easier for you to understand the difference of on page and off page SEO if we discuss the basics first. So let's quickly discuss what is SEO, how it works and what exactly the need of SEO. Search Engine Optimization shortly SEO, is basically the process by which one can grow the website traffic with help of On page SEO and Off page SEO. In the digital industry there is a whole lot of websites already existed and a lot more adding up every day. In such a situation it is really tough to rank high in search engine, get more visibility and attract more and more audience to your site. It is seen that even after having good website design, quality content, correct information some website doesn't appear in SERP (Search Engine Result Page). So it is necessary that you optimize your site properly to be easily crawled by Google's search engine and it can be shown up in the first page of SERP.
Moreover it is also necessary if you want to work on branding of your company, any product or services. SEO is important in increasing brand awareness as well and for conversion leads. SEO is the process where you can put a process of which you can use on page SEO and off page SEO techniques to your website to get rank at best position to any search engine pages. Google's algorithm updates are frequent and important. So, whether on page SEO or off page SEO before implementing any techniques for your website it is crucial that you know the basics of the major Google updates (such as Panda or Penguin).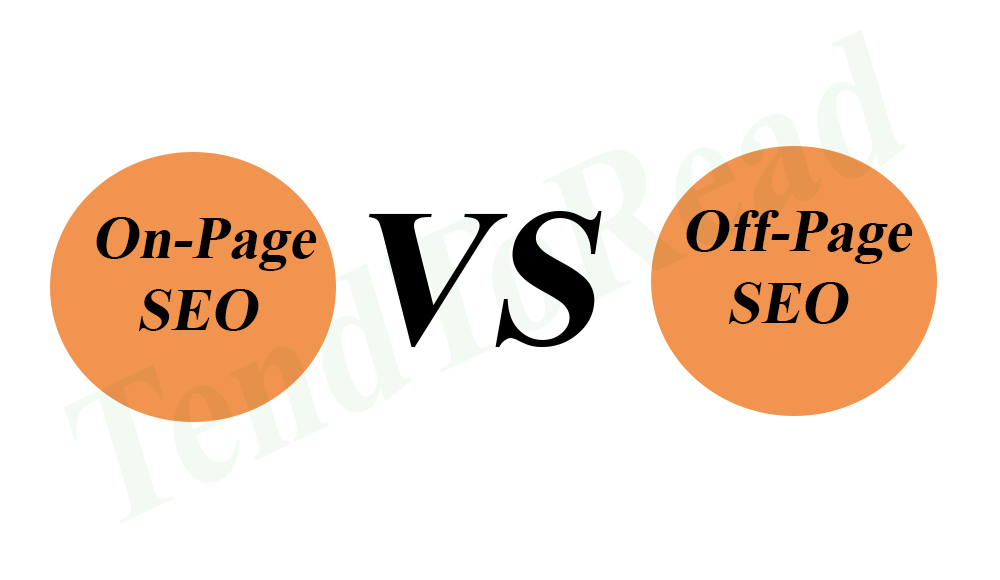 What is SEO and its types?
By definition SEO is a technique to increase website's visibility so as to increase website's traffic and rank high(at top position) in the any search engine results in the organic listings that is the unpaid section. In digital marketing SEO is a must. From keyword search, content optimization, image optimization, backlinking, minified CSS and JS files to placing ads and working on Google Analytics- there are many ways of successful placements of search engine optimization. However it can be categorized mainly into two kinds- on page SEO and off page SEO.
What is on page SEO

On page SEO is the practice that focuses on optimizing the portions of your website that is within your control. It is done within the website or individual web pages so that it could support Google algorithm and follow the standard rules as much as possible to rank high in search engine results and grab more traffic. Optimization of website content, Schema markup, URL structure, site speed, add CTR button, internal – external link, meta tags, check keywords density, keywords prominence, optimized landing pages, add breadcrumb, and HTML source code fall in this type.

What is off page SEO

Off page SEO refers to the type of SEO that is done outside the website in regards to increase the website traffic or increase visibility. Off page SEO doesn't really only is stuck into backlinkings. It has a lot in the bucket that is much effective to increase the authority of your site by doing backlinks from high authority sites. Blogging, backlinking, social media marketing, business listing, approach to influencers, natural or manual backlinks, discussion forums, social bookmarking, Directory submissions and many more- the list for off page SEO techniques is long.
White hat SEO and Black hat SEO
White hat SEO is basically the proper and noble way of optimizing a site. White hat SEO follows the search engine guidelines, targets human audience and is a long term approach. On the other hand, black hat SEO relate to the strategies that breaks the standard search engine rules and depends on the manipulative actions and seek short term success.
Difference between On page SEO and Off page SEO
| On page SEO | VS | Off page SEO |
| --- | --- | --- |
| On page SEO focuses on the activities that are done within the website for optimization | | Off page SEO focuses on the activities that are done outside the website for increasing the authority of website's domain |
| This is to show search engine crawlers what is the website is about | | This is to show search engine crawlers how important the website is |
| It helps search engine find the website for a relevant search | | It helps search engine find the website because it has good domain authority and is popular |
| On page SEO believes in specific data of website | | Off page SEO believes in linkbuilding |
| Adopted more for ranking purpose | | Adopted more for branding purpose |
| Relates to providing good user-experience for visitors | | Relates to inbound links from other websites to your website |
| Checking SSL Redirection Errors, H Tags analysis, content optimization, Meta Tags Analysis, Alt/Image Tag Analysis, Keywords Proximity Analysis , Internal Linking Structure Analysis, Canonical Tag Analysis, Website Speed Testing Analysis, W3C Validation Analysis, Schema Analysis, Broken Link Analysis for external and Internal link | | Article submission, High authority link, Natural link building, guest post outreach, Local citation, Infographic, Image submission, Blog content writing, Influences outreach, and many more things |
On page SEO Vs Off page SEO
As mentioned above, on page SEO techniques are those performed inside the website itself. The major aspects of on page SEO are:
On-Page SEO
Use LSI Keywords

So in content writing for websites the very first thing one should give attention is to analyse keywords with LSI (Latent Semantic Indexing) that are trending, frequently asked by people and some similar keywords that could be potentially searched. For this you can use different keyword analysis tools or software available online. There are also some free websites for the same. Use of proper keywords in the website content and place your keywords at the top prominent places that helps a website to show up in Google search with high rank for related search.

Title tag

The best practice to giving an effective title tag is that it should contain 55-60 characters including space. It is good and preferred that you use a keyword in the title tag but it's not mandatory and if it sounds unusual to frame a sentence using the keyword in the title tag, you can avoid it. Don't try to impose your keywords forcefully. You can use the brand name after the title tag separated by a bar (|). For instance: " internet blogging|TendtoRead"

H1 heading or H-tags

It is necessary to put one H1 tag at the heading per page. Heading is the first thing a visitor generally sees after landing on the page. The search engine also values it a little more than the other content of the page. So it is better that you put the targeted keyword there. But again it should surely resemble the content at that page. The other tags that are used after H1 tags are H2 tags, H3 and H4 tags. It depends on your site structure suppose if you have added H2 tags and after H2 tags there are some sub heading then you can add that sub heading in H3 tags.

Alt/title tag for images

Giving alt tag in images of a website is a primary and important on page SEO technique. You can target the primary keyword to be used in the title/alt tag. The length should be preferably 8-10 words and should describe the content the image is related to. This will help the search engine find your image easily for a relevant search and hence direct to your website through it. Also if it is relevant you can use a geo-locator in the alt tag (eg.California).

Check Site's Speed

Page load speed is another one of the important factors that effects mainly in user experience and also in ranking. With the help of Google's Page Speed Insights, and also GTmetrix.com you can check on your website's loading time both in mobile and desktop. Also find the elements or give suggestions that need to be optimized in order to speed up your website's loading time. Minimizing HTTP request, Server loading speed, minifying CSS, JS and HTML, enabling Gzip compressor, using image sizes within 100kb etc are to be done properly in order to obtain a moderate page load speed. If you are using wordpress theme then keep in mind that try to use minimum number of plugins and update your site regularly.

There are many factors you have to optimize for your site speed like First contentful paing (FCP), First Input Delay(FID), Largest contentful Paint(LCP) and Cumulative layout shift(CLS) if you have achieve all of them score 80% then your site speed is very good as compared to others site at Mobile and Desktop both.

Meta tag

Meta tags tell search engine about important information about your webpage or what the webpage is all about. It shows how or what should displayed in the search engine result page. Optimizing meta tags is one of the foremost techniques of on page SEO. Some important meta tags are: meta title, meta description, meta robots, meta viewport and meta refresh redirect. The word limit of meta title would be 60-70 character includes space and word limit for meta description would be 155-165 includes space.

Always use HTTPS

Any search engine recommend that always use secure socket for your site which help to your user and it will also help to get rank or increase authority of your site in terms of security. So always use HTTPS with your domain. This is also help other users when they are putting any sensitive date in your site.

Schema Markup

Schema Markup is another great on page SEO techniques which increase your website CTR and users. This schema markup deals with many things like rich snippet, breadcrumb FAQ, date snippet, business markup, Event markup and create knowledge graph for your business. Schema markup can be written mainly in two form JSON-LD and Microdata.

Check 404 and soft 404 page

This is another great techniques for on page optimization if your website pages getting 404 or soft 404 error, so in that case you must have to check that page and redirect to them on 301 or at right pages. Sometime these error increase your website bounce rate and will decrease your website CTR from the search engine page. So always keep update your page with such types of errors.

Canonical Tag

This tag is also important in On page SEO factors, this canonical tag will help from to prevent to delicacy in the search engine. If you have two page one A and B and B page contains A content in that case you must have to use canonical tag to get prevent from duplicacy.
Coming to the off page SEO techniques- A major features of off page SEO is linkbuilding. Link building or creating backlinks to your site is the most important off page SEO technique. More the backlinks more your site will be visible and also you can find your competitor links from backlinks analysis tools. Not only the quantity but also the quality of backlinks matter here. So, it is important that you collect good quality of backlinks so that it helps you in ranking. There are a number of ways for performing backlinking.
Off Page SEO
Directory submission

In directory submission your website url along with few details need to be submitted to the web in a directory under a suitable category. This is an effective way of link building and helps in increasing page authority.

Social bookmarking

Social bookmarking allow users to add, edit and share bookmarks of web documents. This is an important practice of off page SEO. In social bookmarking sites the web pages that we bookmark are considered as backlinks which in turn help in attracting traffic to your site.

Blog commenting

If you find a blog that is relevant to your website or that includes topic with common interest or something that you are expert in, then you can write a comment in the blog and share your view or knowledge on that including your website's link or your portfolio. Blog commenting is a way you can grab people's attention by showing them that you are really an industry expert and ask them to visit your website for the same.

Guest blogging

Guest blogging or guest posting is one of the very popular link building process of off page SEO where you can post blogs or relevant quality content to a website that accepts guest blogging. If people visiting that parent blogging site gets to read your content and love it they will be interested to visit your website as well. And your page will get a click along with an authentic audience.

Business listing/Citation

If your website is a business website or you have a physical establishment of your business, then business listing is a good way to adopt for link building or to share your business details online. There are many business listing sites where you can list your business and increase your website's visibility- Google Business Listing, Bing Places for Business, Yellow Pages, Yelp, Just Dial etc.

Social media

Social media is a strong strategy for gathering some good traffic and branding of your product or service as well. By being active in popular social media platforms like Facebook, Instagram, Twitter, Google+ etc. you can create a good network of potential customers or common minded people and thus by exhibiting your brand or website in front of them can lead you to get quality links to your site.

Natural Linkbuilding

This is a another great off page SEO techniques which increase your website authority and create bonding to other person. In this process you have approach to other linkbuilders or link influences who is dealing in this techniques. You can also approach to blogger for writing content on their website and you will get a link at the author section. Another you can find journalist who is looking for sources with help of sourcebottle, here you have to write on topic according to them and you will get a free link to your site.
Similar as a healthy lifestyle requires both a healthy mind and a healthy physic, a healthy website requires both on page and off page activities to make it fully fit or optimized. Just in the cover the processes may seem easy but deep inside you need to be very conscious about the different techniques, updates and make your eyes and ears open. But with practice and experiences you will be able to easily catch up with the flow and create the most successful path for getting the first rank in search engine results. Play with the strategies, know the exact forte for your website and implement it to get the desired output.